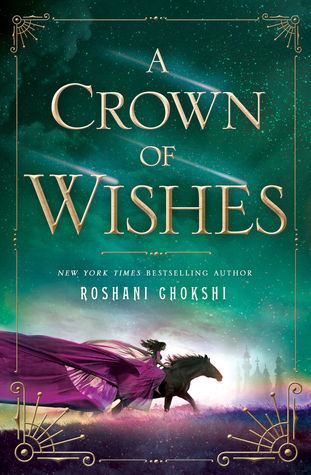 Title: A Crown of Wishes
Series: The Star-Touched Queen
Author: Roshani Chokshi
Publisher: St. Martin's Griffin
Publication Date: March 28, 2017
Gauri, the princess of Bharata, has been taken as a prisoner of war by her kingdom's enemies. Faced with a future of exile and scorn, Gauri has nothing left to lose. Hope unexpectedly comes in the form of Vikram, the cunning prince of a neighboring land and her sworn enemy kingdom. Unsatisfied with becoming a mere puppet king, Vikram offers Gauri a chance to win back her kingdom in exchange for her battle prowess. Together, they'll have to set aside their differences and team up to win the Tournament of Wishes—a competition held in a mythical city where the Lord of Wealth promises a wish to the victor.

Reaching the tournament is just the beginning. Once they arrive, danger takes on new shapes: poisonous courtesans and mischievous story birds, a feast of fears and twisted fairy revels.

Every which way they turn new trials will test their wit and strength. But what Gauri and Vikram will soon discover is that there's nothing more dangerous than what they most desire.
Q&A with Roshani Chokshi
It's always such an awe-inspiring moment when you get to ask a famous author anything about their work, and that's how I felt when I was given the chance to do a mini interview with Roshani.
The Hardcover Lover: These sisters - Maya and Gauri - have stolen the hearts of readers around the world because of their loving nature and unique personalities. What inspired their creation?
Roshani Chokshi: I'm very close to both of my siblings, so I was certainly inspired by them. Women possess a myriad forms of strength. With Maya and Gauri, I really wanted to explore those different strengths and weaknesses.

THL: In two sentences, convince readers to read both The Star-Touched Queen and A Crown of Wishes.
RC: Dear Maybe-Someday-Reader: have you ever wanted to wander a magical Night Bazaar where dreams grow ripe on silver trees, or play in a tournament where you might win a wish? Or perhaps you are the kind of reader who likes your romance with a heavy dose of banter or your tall, dark and enigmatic kings with a side of Secrets™ with sly smiles and sprawling, magical kingdoms…these books might be for you.
More Q&A Fun with Roshani Chokshi


1. What is one thing you hope readers will get out of A Crown of Wishes?
a. I hope they close the book grinning. And maybe that night, they'll dream about stories. And maybe the next day, they'll see a bird dart from a tree and wonder if it came from Kubera's court.

2. How was writing A Crown of Wishes different than writing your debut? Was the editing process easier this time around? Did the characters surprise you along the way?
a. Writing under a contractual deadline vs. "letting a story simmer and roll around in your thoughts for 4+ years" is bound to be a VASTLY different experience. I treated my outline religiously with ACOW. The editing process with my first book taught me to reconsider everything I knew about storytelling—when to hold back, when to give a little, when to move on. I think the main difference with ACOW was its forward sense of momentum. I'd never cried over scenes until I wrote ACOW. I mean, I'd cried in the sense of frustration, but not in the sense that a book's character had put me through the emotional wringer because of their situations. To me, Gauri and Vikram became people that I could spot in a crowd. They became family.

3. Any hints on your next project? Will you continue to use mythology as your inspiration?
a. I can pretty much guarantee that mythology will always be in my stories. My next YA project is THE GILDED WOLVES. It's a dark, sultry, ish-heist story set in the glamorous La Belle Epoque era of Paris. I love it to pieces, and I can't wait for readers to meet the characters and world!

4. Did you always want to be a writer? What inspires your writing? Why did you choose to write YA novels?
a. Well, I always wanted to be a sorceress. And writing is its own sorcery. So yes.
b. My family and friends inspire my stories. I always return to the stories I grew up with or the stories I never had. I'm inspired by the places I've visited and the places I haven't.

c. YA is a critical emotional landscape. It has emotional immediacy and consequences, vivid feelings and so much wanting. I don't think we ever divorce ourselves from that sense of scrambling to find who we are. I'm not always sure that I know that answer for myself and so writing YA often feels like discovery.

5. A Crown of Wishes is about Gauri. Did you always know you'd want to tell her story, or did something about her story feel untold to you after you finished writing The Star-Touched Queen? Was her character influenced by any people that you knew?
a. Yes. Gauri's story had always had a special place in my heart. I left her story purposely unfinished so that I could follow that emotional thread in ACOW. As for her character, she's a lot like my little sister. Courageous, fierce and full of compassion.

6. What are some books that are similar in nature to yours that you'd recommend to other readers?
a. I think because of the magical tournament aspect, ACOW has gotten a lot of comparisons to Stephanie Garber's CARAVAL, which delights me to no end because Stephanie is a wonderful friend whose book *stole* my heart!
b. I'd also recommend Lloyd Alexander's THE IRON RING. It was one of the first books I ever read that was influenced by Hindu mythology, and I thought Alexander's respect and admiration for the culture was lovingly rendered and creatively executed.

7. If you will be part of the Tournament of Wishes and you can choose your partner either real or fictional character, who will you pick to join you in Alaka? This book is about wishes so obviously I have to ask, what would you wish for if you won the Tournament of Wishes?
a. I would wish for no need of wishes, with the condition that I'm not killed or incapacitated. And as for partner, I would choose Agnieska from UPROOTED because she's powerful, hilarious and would probably not mind taking frequent snack breaks…
About Roshani Chokshi