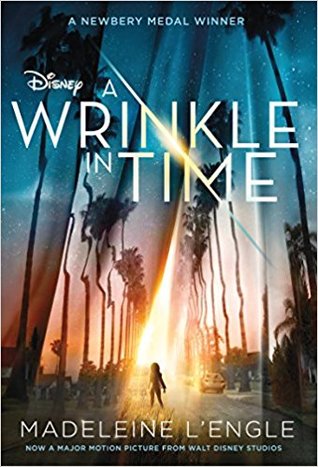 Title: A Wrinkle in Time
Series: The Time Quintet
Author: Madeleine L'Engle
Publisher: Square Fish
Publication Date: November 7, 2017
Originally Published: 1962
Meg Murry, her small brother Charles Wallace, and Calvin O'Keefe (one of the most popular boys in school) journey through time and space in search of Meg's father, a scientist who disappeared while engaged in secret work for the government on the tesseract problem. What's a tesseract? It's a wrinkle in time--but to say any more about the subject would rob the reader of the enjoyment of Madeleine L'Engle's unusual and enchanting book.



A Wrinkle in Time is the winner of the 1963 Newbery Medal. It is the first book in The Time Quintet, which consists of A Wrinkle in Time, A Wind in the Door, A Swiftly Tilting Planet, Many Waters, and An Acceptable Time.

A Wrinkle in Time is a 2018 major motion picture from Disney, directed by Ava DuVernay, starring Storm Reid, Oprah Winfrey, Reese Witherspoon and Mindy Kaling.
My Review
Madeleine L'Engle's A Wrinkle in Time has been on my TBR for a while now. And I'm not talking weeks or months; I'm talking years. There's always been a curiosity there. Why didn't I read it in school or when I was younger? What's it really like? What's it about? And I'll admit that seeing the trailer for the movie made me a bit more curious. Unfortunately for me, being curious didn't help me here. I was unable to finish this middle-grade classic.
So what went wrong? Honestly, a lot.
From the beginning, I was not able to connect with Meg. I wouldn't say that I dislike her as a character, but something about the way she's written just didn't work for me. And while I realize that I'm an adult and this book is meant for younger readers, I'm usually always able to connect with characters in YA and middle-grade literature, and if not, I usually find other aspects of the book that I enjoy.
Another thing that didn't work for me was the plot. While the concept is interesting, I found myself bored while reading. I was so bored that I kept forgetting what happened previously, and ultimately, I had to take a moment and decide that A Wrinkle in Time wasn't the book for me.
Who knows? Maybe I'll try reading this again in a few years, but for now, it's time for me to move on to other books.