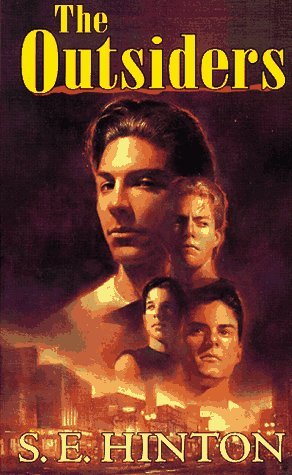 Title: The OutsidersAuthor: S.E. Hinton
Publisher: Puffin Books
Publication Date: April 24, 1967
Source: Borrowed from School
According to Ponyboy, there are two kinds of people in the world: greasers and socs. A soc (short for "social") has money, can get away with just about anything, and has an attitude longer than a limousine. A greaser, on the other hand, always lives on the outside and needs to watch his back. Ponyboy is a greaser, and he's always been proud of it, even willing to rumble against a gang of socs for the sake of his fellow greasers--until one terrible night when his friend Johnny kills a soc. The murder gets under Ponyboy's skin, causing his bifurcated world to crumble and teaching him that pain feels the same whether a soc or a greaser.
My Review
It's a funny thing to read a book, knowing that you'll be teaching it to students. It's even funnier when you've never read the book yourself. That's what happened to me this past fall when I taught a vivacious group of seventh graders. I had to not only read The Outsiders by S.E. Hinton, but I also had to prepare engaging lesson plans and activities for each day that I was teaching it. At the end of it, I enjoyed it, no matter how stressed I was.
When I read The Outsiders, I read it five chapters at a time - enough for me to plan for a week of teaching, but also just enough for me to get into the plot and get to know the characters in small doses. What I really liked about this book was the shorter chapters. They're long enough to be challenging for younger readers (I'm thinking like 11-14 year-olds...), but still full of enough action and plot advancement to entertain a reader of any age.
I was also captivated by the characters in The Outsiders. The Curtis brothers make a unique family. They haven't had the easiest life, but the three of them are trying their best do get by in life, and both Darry and Sodapop are there for their younger brother, Ponyboy. The greasers are also a lively bunch of characters full of good, bad, and everything in-between. I can see why they have reached readers for decades.
The plot of The Outsiders is one that I really enjoyed. I'll admit that I was a little bored during the first few chapters, but the book really starts to pick up right before the middle. From that point forward, I was hooked, and I couldn't wait to get back to the book to find out what would happen next. Hinton knows just how to keep her readers interested and coming back for more.

My favorite part of the book has to be the inclusion of Robert Frost's poem, "Nothing Gold Can Stay" and how Ponyboy connects so many different events from the book to it. The inclusion of the poem doesn't just bring symbolism to the book; it really helps readers connect the book to other things in the world.
All in all,
The Outsiders
is a fantastic novel. It made me long for my teenage days, but it also taught me a lot about life, especially those who are less fortunate than I am. I'm glad I finally had the chance to read it, but I'm even more glad that I had the chance to share it with a group of kids who are going through some of the things that the greasers go through in the novel.