It's Monday, so that means it's time for another "It's Monday! What Are You Reading?" This weekly meme is hosted by
BookJourney
, and although I don't participate weekly, I try to. Sometimes things just get in the way or I find that I'm still reading the same book as I was the week before because I've been so busy.
If you keep up with my blog regularly, you might know that I planned to read three books last week. Unfortunately, I only got to read one, but I did start the second one! That's progress, right? This week's edition might be a bit repetitive, but I am going to try to add another book to it because I really, really want to read it. I just hope I can get around to reading all three, but that might be a bit difficult because I adopted two kittens on Thursday.
Okay... so here's what's on tap for this week:
The Remedy by Susan Srikant
You might have noticed that this book is now being featured in my "Currently Reading" box on my side bar. I started it a few days ago, and I'm really hoping to finish it today. Again,
this book was sent to me by Susan Srikant in exchange for an honest review. I read and reviewed her book, The Disappearance of Lars Wellingsworth, and it was quite enjoyable. I'm looking forward to this one, and one other book by her.
Synopsis:
Joss Hall's little sister, Bibi, is dying, and it's all Joss's fault. Everyone agrees the situation is hopeless, but there is no way Joss is going to sit around and do nothing. She and her friends, Domino and Anton, decide to hike through the dark and dangerous forests of Burkett Mountain in search of a mythical creature with healing powers called a jarrlock, hoping to find a way to help Bibi before it's too late.

This entertaining adventure story takes readers on a quest filled with curious creatures and magical medicine.
Beau, Lee, The Bomb and Me
by Mary McKinley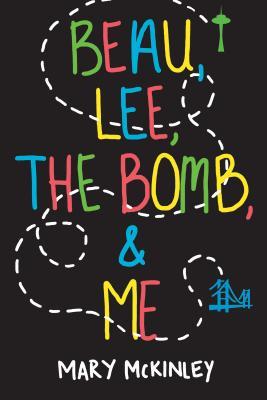 While I was searching through the YA titles on NetGalley, I found this one.
I was immediately attracted to the cute font on the cover. I also was a fan of the title, so I read up on it, and requested it. I really liked the synopsis, especially because I was bullied a lot in high school, so I'm hoping that it's just as amazing as it seems... well... except for the whole Twilight reference, but I'm willing to forgive Mary for that one because I wanted to go to Forks before Twilight was even a thing.
Synopsis:
When Beau transferred to our school. I thought: "Good; fresh meat." Because I knew he would be tormented the entire time he was at Baboon High. Like I am. All day. . .every day. Growing up is a trip. . .

In high school, there are few worse crimes than being smart or fat. Lucky me, I'm both. But when Beau Gales blows in to town, it takes about two minutes for the jackasses at our Seattle school to figure out he's gay, and that makes him an even bigger target. Have you ever heard the saying: 'The enemy of my enemy is my friend'? There's something to that.

When the bullying gets violent and Beau decides to run away to San Francisco to ask his Uncle Frankie for advice, we all go. Beau, me, Leonie (designated class slut), and a scruffy rescue dog called The Bomb--a tribe of misfits crammed into my mom's minivan. Throw in a detour to the
Twilight
town of Forks, armed robbery, cool record shops, confessions, breakups and makeups, and you have the kind of journey that can change the way you look at the whole world--and yourself.
The Infinite Sea by Rick Yancey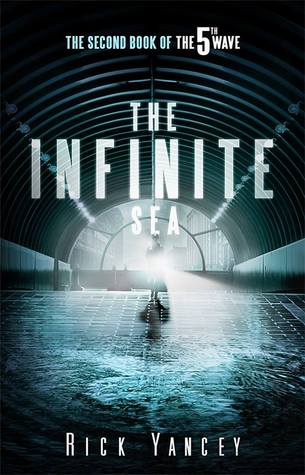 So after I finish reading the review books, I'd like to try to read something for myself before keeping up with some of the other review titles I have to read. I read The 5th Wave this summer, so I'm really excited to see what happens next, especially because this book is sitting on my shelf!
Synopsis:
How do you rid the Earth of seven billion humans? Rid the humans of their humanity.

Surviving the first four waves was nearly impossible. Now Cassie Sullivan finds herself in a new world, a world in which the fundamental trust that binds us together is gone. As the 5th Wave rolls across the landscape, Cassie, Ben, and Ringer are forced to confront the Others' ultimate goal: the extermination of the human race.

Cassie and her friends haven't seen the depths to which the Others will sink, nor have the Others seen the heights to which humanity will rise, in the ultimate battle between life and death, hope and despair, love and hate.
What are you reading (or planning to read) this week? Feel free to tell me in the comments. You can also leave a link to your post so I can check it out. Who knows? Maybe you'll just help me add yet another book to my never-ending TBR list!