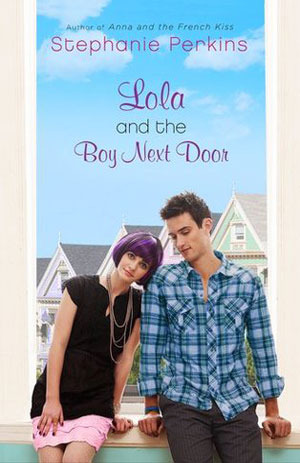 Original Cover
Title: Lola and the Boy Next Door
Series: Anna and the French Kiss
Author: Stephanie Perkins
Publisher: Dutton Books
Publication Date: September 29, 2011
Budding designer Lola Nolan doesn't believe in fashion...she believes in costume. The more expressive the outfit—more sparkly, more fun, more wild—the better. But even though Lola's style is outrageous, she's a devoted daughter and friend with some big plans for the future. And everything is pretty perfect (right down to her hot rocker boyfriend) until the dreaded Bell twins, Calliope and Cricket, return to the neighborhood.

When Cricket—a gifted inventor—steps out from his twin sister's shadow and back into Lola's life, she must finally reconcile a lifetime of feelings for the boy next door.
My Review
Lola and the Boy Next Door
is another magical book by the one and only Stephanie Perkins. Ms. Perkins has a way with words that captivates readers, and I was beguiled by Lola's story just as much as I was with Anna's story. There is a reason why people think of Perkins as the new queen of contemporary YA. She writes stories that her readers fall in love with.
This book has pretty much everything I expected - a love triangle, a wonderful setting, a beautiful boy, drama, and a quirky lead character. Oh, and Anna and St. Clair are back, so there is that amazing aspect. There was one element in the book that surprised me - Lola's parents - but I loved it. I hadn't seen anything about them on the Internet, so it was a pleasant surprise.
I really enjoyed Lola as a character. As I was reading, I was so ecstatic to see a YA character with some unique interests. As a sewer, I loved that Lola was able to create her own outfits, and even save the day with her sewing machine! So kudos to Stephanie for including that in Lola's personality! I also loved that she was able to see past her genetic past and want to become a better person than who she thinks she was destined to be.
Cricket Bell... What can I say about Cricket Bell? He is pretty swoon-worthy, and I fell for him just as many readers of the series did. He's not only what is classified as a good-looking guy, but I loved that he was able to own up to his past mistakes in order to move forward in his life.
I wouldn't say that I loved this book as much as I loved Anna and the French Kiss, but it was a close second. Both books are great, but I do think that there was just a little more contemporary magic in the first book in the series. Regardless, Lola and the Boy Next Door was still an enticing read that I will cherish forever.