Stacking the Shelves is a weekly feature/bookish meme hosted by Tynga on her blog, Tynga's Reviews, although I'm guilty of not posting every week! You know how life gets in the way, right?
The meme is all about sharing the books that you have added to your shelves and e-readers. This means that you can include any physical books that you buy in stores or online, but you can also include all of those e-books and eARCs for your digital reading device.
For more information on Stacking the Shelves, feel free to visit its
official launch page
on Tynga's Reviews.
Because it's been so long since my last Stacking the Shelves post, I kind of forgot about some of the books that I've added to my shelves, and I really don't feel like digging through them for a post, so today, we're focusing on the books that I've received in the last few weeks. Sound good? I hope so!
Bring on the Fall Books
I've been going through a terrible blogging slump lately. After going throughout much of the spring and summer without receiving any digital or physical ARCs, I really thought my time as a blogger was finished. I just kept thinking that publishers were no longer interested in me as a book reviewer and blogger. It was terribly upsetting, especially because I just kept thinking to myself, "What on earth did I do?"
Apparently nothing because as of lately, books have been arriving in the mail, and I've been getting invited to view titles on NetGalley like crazy. So for anyone out there in a dry spell, just hang tight!
Anyway, let's get to some of those books that I've gotten lately, shall we?
Physical and Digital ARCs from Publishers
I received Ripple by Heather Smith Meloche a few days before its release, so I didn't get to read it in time. However, I'm currently reading it, and I am really enjoying it. Be sure to stop by soon for a review!
Marissa Meyer's Heartless is probably at the top of every book lover's wish list right now. I was lucky enough to win a copy from Lisa Maxwell when she hosted a giveaway on Twitter. I'm also currently reading this, and I can't wait to find out more about Cath.
Destiny Soria's Iron Cast caught my eyes a few months ago, but I was completely blown away when a copy showed up on my doorstep! I didn't even think I would be lucky enough to snag one. I'll probably be starting this one some time this week, and I'll be reviewing it around its release day.
Leah Konen's The Romantics arrived in a cute package one day, complete with pink tissue paper and a pink, heart-shaped lollipop. I haven't read this one yet, but I will probably start it in the middle of October.
E. Katherine Kottara's sophomore novel, The Best Possible Answer, found its way to my inbox one day, and I am so excited. I read her debut novel last year, so I am definitely looking forward to reading her newest book.
Finished Copies from Publishers
Jay Asher's What Light is one Christmas story that I won't be able to resist! I've peeked in my copy and read the first few pages, and I'm already hooked! I'm hoping to start this one some time during this week as well.
This was an unexpected surprise when it came in August, but I am really looking forward to reading Bryn Greenwood's All the Ugly and Wonderful Things. It's a bit different from the books that I normally read, but I'm hoping that it's a book I will love.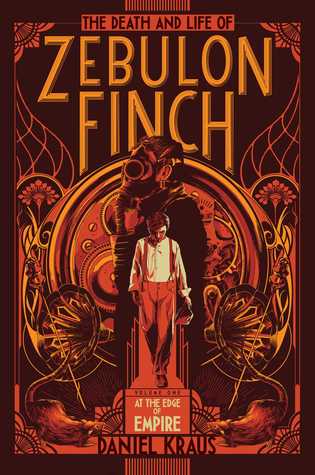 If you don't already know, I'm on the blog tours for both of the Zebulon Finch books. Although I already had a copy of this book, I never had the chance to read it, but that's all changing this fall! I'm hoping to binge read both books and do a series review some time in November or early December.
Gifts
My grandma is seriously the best at going through thrift stores and finding all the books I want. This time, she came through and found me a copy of Lee Harper's Go Set a Watchman.
Alright, little Hardcover Lovers! That's all I have until the next edition of Stacking the Shelves. We all know that I'm pretty bad at getting these posts together, so who knows when that will be!
Now I want to know... have you read any of these books? What did you think of them (please no spoilers!)? Have you recently received any of them? Do you want to read any of them? Heck, do you want to buddy read any of them? Feel free to let me know in the comments below so we can get to talking about all those beautiful books!