At the end of 2015, I decided that I was going to challenge myself to read more books. But not just more books in general... I wanted to challenge myself to read more books outside of my comfort zone and outside of the genres that I normally read, so I joined a few different reading challenges, hosted by many different bloggers in the book community. To keep track of the reading challenges, I came up with a way to keep track of the books I was reading for the challenges, and it is the very generically named Reading Challenge Update.
It's hard to believe that September is already here, and that we are officially moving into fall. Unlike most other ladies, I'm not obsessed with everything pumpkin that comes along with fall. If you ask me, it's all about the apples. Hot apple cider, spiked apple cider, cinnamon, and all of that... But before we get to everything apples, let's look back on how I did on my reading challenges for the month of August.
Note: Some of these challenges allow readers to cross-read, which means you can read the same books for multiple challenges, and they count for all of them. Throughout these monthly updates, including today's update, you may notice this trend.
Debut Author Challenge
The 2016 Debut Author Challenge is hosted by Jana at
That Artsy Reader Girl
. The goal of the challenge is to read as many middle grade, YA, and NA debuts that you can during the year.
Books Read
Julia Day's The Possibility of Somewhere was the one and only debut novel that I read during the month of August. I wouldn't say that I loved this book, but I enjoyed it.
Contemporary Romance Reading Challenge
The Contemporary Romance Reading Challenge is hosted by Jess of
Gone with the Word
s and Danielle of
Love at First Page
. It's all about reading those swoony contemporary romance novels. Each month, participants link up their reviews for the contemporary romances that they've read.
Books Read
The Possibility of Somewhere also fell into the Contemporary Romance Reading Challenge due to the modern day take on Romeo and Juliet and Pride & Prejudice.
Flights of Fantasy
Flights of Fantasy is hosted by Alexa of Alexa Loves Books and Rachel of Hello, Chelly. The goal of Flights of Fantasy is to read as many fantasy novels that you can. It's a no-pressure challenge, which means that you can read as little or as much fantasy as you want!
Books Read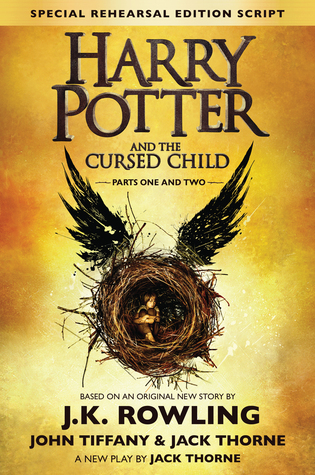 Okay... so pretty much everyone in the book community read this book either on July 31 or shortly after. I read this play in one sitting, and honestly, I liked it. Yes, there were some questionable things about it. However, I factored in that it's just a play based on a J.K. Rowling story, so I knew there would probably be some odd curveballs thrown at us. You can read my review
here
.
After reading Harry Potter and the Cursed Child, I decided to finally finish my reread of Harry Potter and the Sorcerer's Stone. This time around, I opted to read the illustrated edition that I picked up last fall. I haven't decided about reviewing this, so let me know if a reread review is something you would be interested in reading in the comments below.
Another Flights of Fantasy book for the month of August is Lauren DeStefano's The Peculiar Night of the Blue Heart. I really enjoyed this middle grade novel, and my review will be posted in just a few days.
Personal Reread Challenge
I tend to focus on reading more new or new-to-me books. Because of this, I haven't often reread many of my favorites. I have been trying to reread more books that I've read in the past lately, so this year, I decided to challenge myself to reread more.
I reread Harry Potter and the Sorcerer's Stone, and it was just as magical this time around. I'm hoping to reread the rest of the books in the Harry Potter series before the end of the year.
Non Challenge Books
Every reader and book blogger knows that not every book he or she reads will fall into the many different types of challenges and categories. I've read a few non challenge books in the month of August.
Books Read
Penguin Teen graciously sent a copy of Caela Carter's a few months ago. I started it before the Olympics, and I'm so glad that I read this book! It's got action, drama, and awesome heroines. You can read my review
here
.
Another book that didn't fall into any of the reading challenges is Barbara O'Connor's Wish. I really enjoyed this charming middle grade novel about family, friendship, and man's best friend... a dog.
How is everyone else doing for their 2016 reading challenges? I'd love to know, so feel free to leave a comment to let me know how you're doing. Or, just leave a comment to let me know if you've read or are planning to read any of these books.
Happy reading in September, everyone!