Author: Julia Day
Publisher: St. Martin's Griffin
Publication Date: September 6, 2016
Source: eARC from St. Martin's Griffin for Review
Together is somewhere they long to be.

Ash Gupta has a life full of possibility. His senior year is going exactly as he's always wanted-- he's admired by his peers, enjoying his classes and getting the kind of grades that his wealthy, immigrant parents expect. There's only one obstacle in Ash's path: Eden Moore—the senior most likely to become class valedictorian. How could this unpopular, sharp-tongued girl from the wrong side of the tracks stand in his way?

All Eden's ever wanted was a way out. Her perfect GPA should be enough to guarantee her a free ride to college -- and an exit from her trailer-park existence for good. The last thing she needs is a bitter rivalry with Ash, who wants a prized scholarship for his own selfish reasons. Or so she thinks. . . When Eden ends up working with Ash on a class project, she discovers that the two have more in common than either of them could have imagined. They're both in pursuit of a dream -- one that feels within reach thanks to their new connection. But what does the future hold for two passionate souls from totally different worlds?


Guest Post: Let's Take a Road Trip through North Carolina with Julia Day
Julia Day's The Possibility of Somewhere is set in North Carolina. I've never really been to North Carolina (because I do not count landing at an airport and then driving into South Carolina as being there), but I've heard that it's a beautiful state full of so many different types of geographical and man-made sights.
Because of the book's setting, I thought it would be fun to see where Julia Day would go if she were taking or recommending sites to see for an all North Carolina road trip! Let's see the places that she has in mind!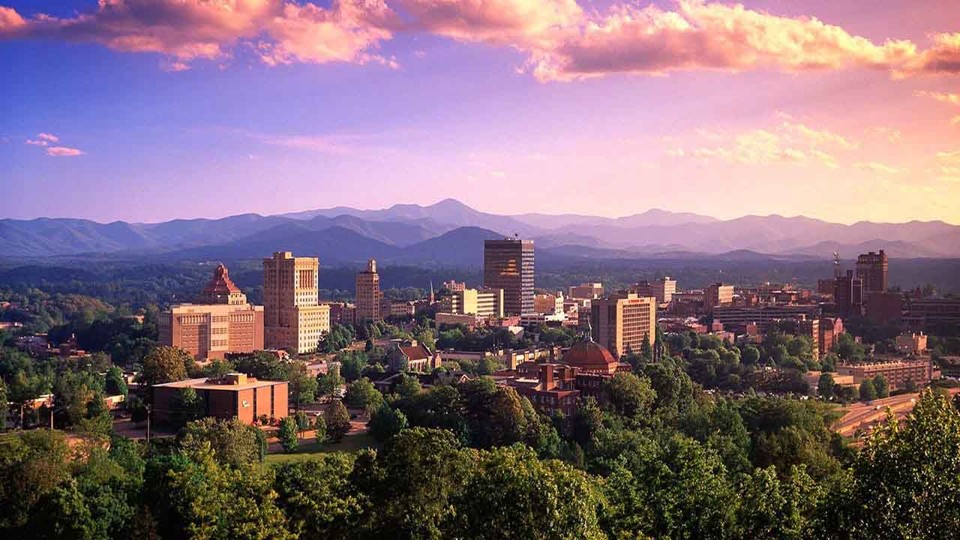 Asheville, North Carolina
Asheville – I would start the tour in Asheville, which is all about natural beauty, mountains, fall foliage, and music/arts festivals. It's just a lovely, charming town (although you don't want to be there in the winter.) The Blue Ridge Parkway is a scenic road to drive and a little bit scary at times.
PNC Arena in Charlotte, NC during a Hurricane's Game
Charlotte – I'd head down Interstate 26 to Charlotte next. In many ways, it's a big, crowded city. But it also has a lot of options for sports fans. Charlotte Motor Speedway, Charlotte Hornets, Carolina Panthers, the National Whitewater Center. Charlotte also has nice museums and parks. The Uptown area is very walkable, and that's where you'll find the arena.
Durham's Skyline
Durham – We'll get on a new interstate, I-85, and head to Durham. It has an odd mix of things to do. The Durham Performing Arts Center (DPAC) is one of the most-heavily attended centers in the country. Plenty of Broadway shows and comedy acts (John Oliver!) perform here. Next door is the Durham Bulls stadium—minor league baseball. The downtown area has amazing restaurants (but the parking is awful).
North Carolina Museum of Art
Raleigh – Hit yet another interstate, I-40, and 30 minutes later you can be in downtown Raleigh. It's the state capital and has a wonderful set of museums in its government complex. The NC Museum of Art is one of the best in the country. I highly recommend its restaurant, the Iris, where you can eat great food (best desserts!) and be surrounded by world class art at the same time. If you like visiting college campuses, we have three amazing universities in the "Triangle": NC State, UNC-Chapel Hill, and Duke University.
Historic River District and Three Colorful Island Beaches
Wilmington – If you come to North Carolina, you have to experience the coast. So we'll continue on I-40 to Wilmington. (Even though you are on I-40 East, you're actually going south.) There are lots of beaches to sample—and you can also check out an aircraft carrier or a movie studio while you're there. The seafood is deliciously fresh, and the best style is called "Calabash."
Cape Hatteras Lighthouse
Nags Head / The Outer Banks – If you want to head next to the Outer Banks, you'll have to take a ferry, and it's best to have a reservation. The ride takes 2+ hours (get on at Cedar Island or Swan Quarter). That will drop you off on Ocracoke, at the southern end of the Outer Banks. Drive north along the highway and enjoy the lighthouses. There are spots where the land is not much wider than the road. (If it's summertime, be careful about hurricanes. They routinely destroy this road.) When you reach Nags Head, stop. Enjoy the national parks, Manteo, and the beaches along the Intracoastal Waterway or the Atlantic Ocean.
Do you recognize any of these places from TV or movies? Have you ever been to any of these places in North Carolina? If so, what did you do when you were there? Do you have any stories to share about them? Feel free to let everyone know in the comments below.
Is The Possibility of Somewhere on your TBR? If so, why? Or, tell me what you thought of it in the comments below if you've already had the chance to read a copy!