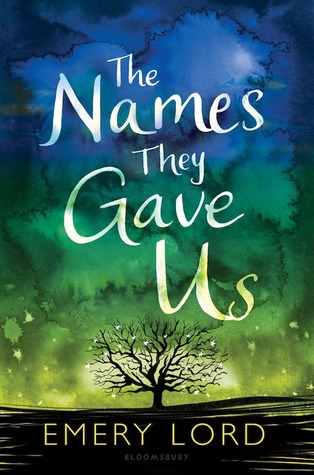 Title: The Names They Gave Us
Author: Emery Lord
Publisher: Bloomsbury USA Childrens
Publication Date: May 16, 2017
Source: ARC from Bloomsbury
Lucy Hansson was ready for a perfect summer with her boyfriend, working at her childhood Bible camp on the lake. But when her mom's cancer reappears, Lucy falters—in faith, in love, and in her ability to cope. When her boyfriend "pauses" their relationship and her summer job switches to a different camp—one for troubled kids—Lucy isn't sure how much more she can handle. Attempting to accept a new normal, Lucy slowly regains footing among her vibrant, diverse coworkers, Sundays with her mom, and a crush on a fellow counselor. But when long-hidden family secrets emerge, can Lucy set aside her problems and discover what grace really means?
My Review
Emery Lord is back with her fourth novel, and it's just as, if not, more stunning than all her previous books. A story so familiar, yet so different, The Names They Gave Us is a poignant story of love, loss, faith, secrets, and forgiveness.
Seventeen-year-old Lucy Hansson is excited for her future, especially her upcoming senior year. She's the captain of her school's swim team, and she has a boyfriend who has been with her through thick and thin. She doesn't expect her world to come crashing down on her all over again after her junior prom. Heading into summer, she's worried about her mother whose cancer is back, and now she's dealing with being dumped, or as her boyfriend puts it, paused. She's hoping to clear her head at her parents' Christian camp, but her mom has other plans for her - to be a counselor at a camp for kids from troubled lives. How will Lucy survive this completely unplanned summer?
Anyone who reads this book will be immediately drawn to its narrator - Lucy Hansson. Emery Lord creates a wonderful narrator and character in Lucy. She's naïve and so willing to learn. She's wise, yet still discovering so much about the world. As her story unfolds, readers learn to love her as a friend and not just someone telling a story. They will find themselves engrossed in her story and everything that this young woman encounters.
Once again, Emery's writing style is simply beautiful. Readers will find Lucy's narration simple, but entrancing. It's raw, emotional, and real. I don't know how Emery does it, but when you're finished reading this, it will feel as if you've been told someone's life story and not have just read a beautifully and emotionally complicated novel.
Readers will also be blown away by the characters in this book. While Emery's previous books have included tight-knit groups of girls, this one includes a character who has friends, but not super close ones. Lucy needs to find her own way in this world, and she finds it, and the friends she needs when she goes off to be a camp counselor. Each person that Lucy encounters at Camp Daybreak is unique and memorable. Readers will also love seeing such a diverse set of characters to support Lucy.
The plot of this book is emotional, like all Emery Lord books. I'll admit that I was a little scared when I saw the word cancer in the synopsis, but it's not your typical cancer YA book. What I found myself reading was a book a little bit outside of my comfort zone, but a book that felt like home. There's a bit of everything in The Names They Gave Us - faith, love, loss, and great friendships. Readers will also encounter many twists and turns and many themes that are relevant to the world in which we live, and it just might get a lot of teens talking about some of the many important issues that might face them.
The Names They Gave Us is the perfect answer to the unpredictable world in which we live. The book is just as real as talking to your best friend about the problems going on in your lives. I would recommend this book for anyone who has already read one of Emery's books, or anyone curious about what she writes. I'd also recommend it for fans of Positively Beautiful by Wendy Mills. The Names They Gave Us will tug on the heartstrings of readers this summer and will leave them begging for more.