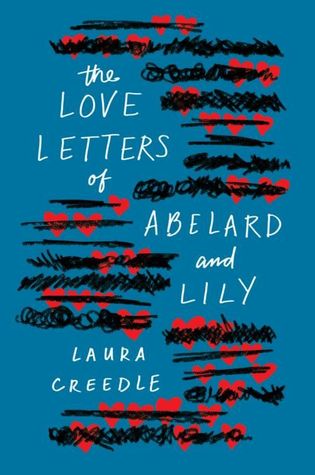 Title: The Love Letters of Abelard and Lily
Author: Laura Creedle
Publisher: HMH Books for Young Readers
Publication Date: December 26, 2017
When Lily Michaels-Ryan ditches her ADHD meds and lands in detention with Abelard, who has Asperger's, she's intrigued—Abelard seems thirty seconds behind, while she feels thirty seconds ahead. It doesn't hurt that he's brilliant and beautiful.

When Abelard posts a quote from The Letters of Abelard and Heloise online, their mutual affinity for ancient love letters connects them. The two fall for each other. Hard. But is it enough to bridge their differences in person?

This hilarious, heartbreaking story of human connection between two neurodivergent teens creates characters that will stay with you long after you finish reading.
Interview with Laura Creedle
The Hardcover Lover:
If you could travel anywhere in the world to research a setting for a book, where would it be and why?
Laura Creedle:
My younger brother has a rundown town house in the Midi-pyrennes region of France. I've never been. The area is very wild and beautiful, or so I've been told. I'm sending a character in my next novel to research the dying Midi-pyrennes language Occitan so I have an excuse to go.


THL:
Have you traveled anywhere interesting for your writing?
LC:
I forced my older brother to spend a day driving with me through Flintridge/La Canada just outside of the Angeles national forest so I could study the topography for a fire scene for another novel. At the time he lived in Riverside California and worked in the film industry. He was willing to give me an insider's tour of a studio, but I wanted to imagine forests burning.



THL:If you couldn't be an author, what else would you do?
LC:I love working with kids. I used to volunteer pretty much full time with a early reading program at a neighborhood school. If I ever stop writing, I'll go back.


Rapid Fire Questions:



THL:Pepsi or Coca-Cola?
LC:
Coke. I try to stick to diet, but Mexican coke with real sugar— so perfect

THL:Mashed potatoes or baked potatoes?
LC:Mashed with garlic

THL:Polka dots or stripes?
LC:Hmmmm…. Stripes on pants, polka dots on skirts

THL:Poetry or prose?
LC:Prose— mostly

THL:Favorite genre of storytelling.
LC:Contemporary, literary, mostly realistic. Magical realism I love, but I don't think I could ever write.

THL:Favorite book?
LC:So hard! It changes. I just re-read Jane Eyre—again. It might be my desert island book. But then again…

THL:Favorite movie?
LC:Also impossible! Bringing Up Baby — that's a top of my head answer. Tomorrow it will be different.
I don't know about you, but I learned a lot about Laura during this interview. And I agree with her about that Coke from Mexico! It's perfect. (And if you haven't had it, or any kind of pop made with real sugar, go out and buy a can now!)
So... Have you picked up your copy of The Love Letters of Abelard and Lily yet? If so, let me know in the comments! And be sure to leave some love for Laura below!
And may all of you have a safe New Year's Eve tonight!