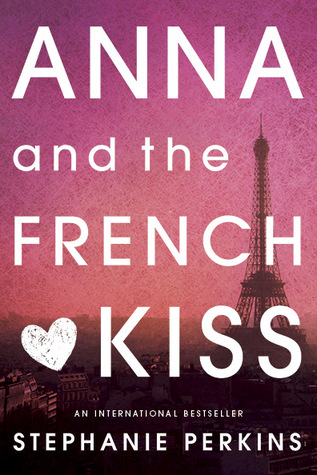 Redesigned Cover
Title: Anna and the French Kiss
Series: Anna and the French Kiss
Author: Stephanie Perkins
Publisher: Dutton
Publication Date: December 2, 2010
Format: Hardcover, first edition
Source: Purchased from Half Price Books
Anna is looking forward to her senior year in Atlanta, where she has a great job, a loyal best friend, and a crush on the verge of becoming more. Which is why she is less than thrilled about being shipped off to boarding school in Paris--until she meets Étienne St. Clair. Smart, charming, beautiful, Étienne has it all...including a serious girlfriend.

But in the City of Light, wishes have a way of coming true. Will a year of romantic near-misses end with their long-awaited French kiss?
My Review
Original Cover
I can't believe I waited almost four full years to read this amazingly, wonderful book. I had seen reviews and ratings all over my Goodreads feed, but I was really confused about this whole series. Why is Anna in the title of the first book? Who is Lola? Who is Ilsa? Well, I'm guessing that Isla is the junior at SOAP in this book, but it doesn't really answer my main question... Who are all these girls and what will happen with Anna and
Étienne? Will I find out? It doesn't seem likely, but I was intrigued enough to read these and find out why everybody keeps talking about these books.
Anyways, after I found this on sale at Half Price Books, I decided to take it home and see what the fuss is about. Boy am I glad that I did because this is now one of my favorite books ever!

I really thought that I was going to have a hard time liking this book before I started reading it because of all of my questions. I didn't have any problems. In fact, I had a wonderful reading experience, and I was bummed that I didn't have a copy of Lola to start right away.
I stayed up all night to read before finally deciding that I needed some sleep. I quickly finished this book today, and I am now a fan, and need the next two books. If I can read a book that quickly, it's always a good thing! I loved how Perkins characterized Anna. At first, I found her to be a bit annoying, but she really grew and matured during her time in Paris. She was a flawed character, but she realized how her mistakes hurt the people around her.
Everything about this book is brilliant and swoon-worthy. Even though I've never been to Paris, I felt like I was in Paris with Anna, Mer, Josh, Rashmi, and St. Pierre because Perkins' imagery is outstanding. I now feel like I have traveled the streets of Paris and been to the top of Notre Dame. I have made wishes in the center of the city. I will forever be a part of this book and it will forever be a part of me.
Reviewer's notes:
I loved the dig at Anna's father about he has a formula to sell romance novels.

It reminded me of a conversation I had with a professor about one of his famous classmates who decided to abandon what he studied to sell romance novels.

I really hope that Dutton/Perkins release these books in hardcover with matching covers. The redesign is just too pretty to not have in hardcover. Please. Please. Please let this happen. Please. Gosh, they're gorgeous covers.