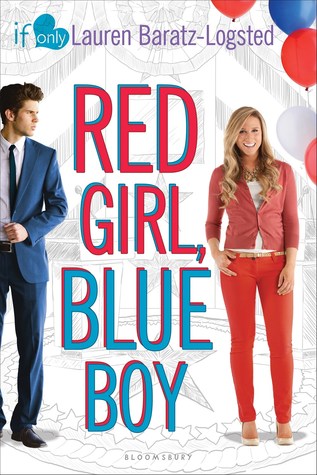 Title: Red Girl, Blue Boy (If Only . . . #5)
Series: If Only . . .
Author: Lauren Baratz-Logsted
Publisher: Bloomsbury USA Childrens
Publication Date: October 20, 2015
Enjoy Red Girl, Blue Boy and the other standalone titles in Bloomsbury's contemporary If Only romance line centered around an impossible problem: you always want what you can't have!

Sixteen-year-old Katie and Drew really shouldn't get along. After all, her father is the Republican nominee for President of the United States while his mother is at the top of the Democratic ticket. But when Katie and Drew are thrown together in a joint interview on a morning talk show, they can't ignore the chemistry between them. With an entire nation tuned into and taking sides in your parents' fight, and the knowledge that—ultimately—someone has to lose, how can you fall in love with the one person you're supposed to hate?

This title in the If Only line is a frank and funny romance that shows how sparks fly when opposites attract.

My Review
It's getting to be that time again. You know what I mean. We're a little over a year away from the 2016 Presidential Election, and you can already tell by going on Twitter or just watching the news that things are already getting pretty heated. And let's be honest... there is one candidiate who is really ticking me off, and if you know anything about me (or follow me on
Twitter
), you might be able to guess which mudslinging candidate I'm talking about.
But can you imagine living that life? What if your mom or dad was running for President of the United States? There would be so much drama, right? But what if you started to fall in love with the opposition's son or daughter? Talk about a major Romeo and Juliet situation there... a Republican and Democrat dating? Oh boy! For teens, Drew and Katie (Kat), this is their life.
Red Girl, Blue Boy
by Lauren Baratz-Logsted tells the forbidden love story of Drew Reilly, the son of the Democratic Presidential candidate and Katie Willfield, the daughter of the Republican Presidential candidate. And I'll tell you one thing... things get heated and political in this fluffy YA read.
This is only the second If Only . . . book I've read, but I can tell you already that I liked the style of this one way better than
Wild Hearts. Red Girl, Blue Boy
is told in alternating perspectives. Katie and Drew both narrate, so readers are getting a more holistic view of what it's like to be a child of a presidential candidate because they are seeing what children of both parties go through.
I will admit that at first, I liked Drew's voice a lot better than Katie's. He's a very down-to-earth teenager, and I could really relate to him. He grew up poor, and I sure as hell didn't grow up in a mansion! And then there's are other main character, Katie... Katie really annoyed me! She's a princess, and it shows. She's very stuck up and cocky, and I wanted to jump into the book and give her a good smack on the head! But she's also only ever known what it's like to be rich, so her ignorance of the middle class and the poor makes sense. In no way is it right, but I understand how she just sees things differently. I did like Katie a little more by the end of the book, but her attitude really ruined much of the book for me.
The book is mostly set in Connecticut, where both candidates and their families live. Baratz-Logstead doesn't do a great job at describing the areas where Drew and Katie live, and that kind of bothered me. The whole story just seemed half-finished because of the lack of details about the setting. I honestly had no clue they were in coastal CT until the two go to the beach! The two main characters also hit the campaign trail during the novel, and they visit places like St. Louis and Philadelphia. Once again, I felt like these parts of the novels were half researched because they two main characters only see popular tourist spots. It was slightly disappointing, and I wish that Ms. Baratz-Logstead could have just added a few more details to make it seem more realistic.

Now let me warn you... this book contains Instalove! Yup! I said it. Now I can see instant crushes and all that, but this was over the top. Katie and Drew fall for each other before they really even meet. There were a few other things that bothered me about Red Girl, Blue Boy, and it's probably just because I'm a huge fan of politics. The first thing that bothered me is the lack of news coverage of political campaigns. It was implied a few times, but it seems like a few scenes of the families catching up on the news could have made this book seem a bit more realistic. The other issue I had with this book is that there is no mention of either candidate's running mate! The book starts with the election just six weeks away. At that point in an election year, the running mates are making a lot of appearances together or making joint statements about their campaign. Once again, it just seemed half-finished, and it left me looking for more.
Red Girl, Blue Boy by Lauren Baratz-Logsted was not a home run for me, but it had its enjoyable moments. I really enjoyed Drew as a character, and I liked his voice throughout the novel. If anything, I feel like he saved the book from true disaster. I also started to enjoy the romance between Katie and Drew, but then Baratz-Logsted ruins it just when I was starting to really enjoy it. (No... I won't spoil you, but if you read it, be prepared for a huge event that changes everything when the book is almost over.) I'd recommend Red Girl, Blue Boy to younger YA readers because of the fluffy nature of the book. It's a book that I think middle school students would enjoy reading, and I think it would help spark an interest in politics, especially because the 2016 election is almost here. I'd also recommend this If Only . . . title to fans of romantic comedy films because it feels very much like one.
Lauren Baratz-Logsted is the author of more than twenty books for adults, teens, and young readers, including Little Women & Me, The Twin's Daughter, and the Sisters 8 series, which she co-writes with her husband and daughter.