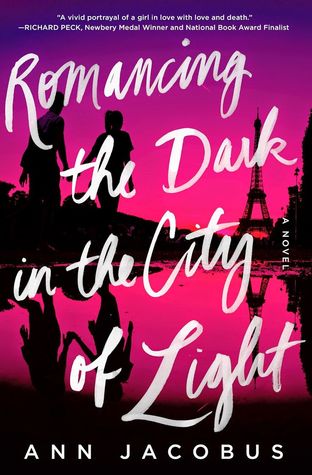 Author: Ann Jacobus
Publisher: Thomas Dunne Books
Publication Date: October 6, 2015
Source: eARC from Thomas Dunne Books
A troubled teen, living in Paris, is torn between two boys, one of whom encourages her to embrace life, while the other—dark, dangerous, and attractive—urges her to embrace her fatal flaws.

Haunting and beautifully written, with a sharp and distinctive voice that could belong only to this character, Romancing the Dark in the City of Light is an unforgettable young adult novel.

Summer Barnes just moved to Paris to repeat her senior year of high school. After being kicked out of four boarding schools, she has to get on the right track or she risks losing her hefty inheritance. Summer is convinced that meeting the right guy will solve everything. She meets two. Moony, a classmate, is recovering against all odds from a serious car accident, and he encourages Summer to embrace life despite how hard it can be to make it through even one day. But when Summer meets Kurt, a hot, mysterious older man who she just can't shake, he leads her through the creepy underbelly of the city-and way out of her depth.

When Summer's behavior manage to alienate everyone, even Moony, she's forced to decide if a life so difficult is worth living. With an ending that'll surprise even the most seasoned reader, Romancing the Dark in the City of Light is an unputdownable and utterly compelling novel.
My Review
Romancing the Dark in the City of Light
is an absolutely beautiful and fitting title for this new YA novel by Ann Jacobus. Why? Because the main character, Summer Barnes, really does struggle with life and happiness during her stay in Paris, France. You see... she's not just depressed; she has a lot of problems going on that make the depression even worse, and it all just builds up and starts to control Summer.
Romancing the Dark in the City of Light
is narrated in the present tense by a third-person omniscient narrator. This narrator only focuses on Summer's actions, so throughout much of the novel, readers are only getting a one-sided story. It's good in some ways because the readers always know what's going on in Summer's head, but it's bad in other ways because readers don't really get to know the other characters in the book on a more personal level. For instance, the readers will always know what's going on with Summer because it's always being told to them, but they won't know about the two other main characters, Kurt and Moony, unless they are speaking to Summer. I also felt like the narration slowed the pace of the novel a bit. It's not a hard book to read, but it gets monotonous and boring after a while.
The plot of
Romancing the Dark in the City of Light
is unlike other contemporary YA novels that I've read. But if I'm being one-hundred percent honest, I'd have to say that I wouldn't throw this book in the contemporary box because there are elements of magical realism in the book that keep the reader interested and engaged. Yes, it's about a depressed teen. Yes, those books seem to be very hot right now, but this one is really different. Readers will follow Summer as she starts yet another private high school and worries about what to do with the rest of her life. They'll follow her through her strange love triangle, and they will worry about her as she navigates another senior year of high school in her new home of Paris. There are twists and turns that readers might miss, so I'd recommend reading this one slowly and savoring the slow simmer that Ann Jacobus provides.
This is only the third YA novel that I've read that's set in Paris, but I really enjoyed the edgier take on The City of Light. The two previous books (
Anna and the French Kiss
and
Isla and the Happily Ever After
) had a more positive outlook, and really romanticized the city.
Romancing the Dark in the City of Light
takes readers to some of the creepier places in Paris. Readers will explore some of Paris' underground tourist locations like the underground sewer system and the catacombs. Readers will also be taken to some of
La Ville Lumière's well-known tourist sights, but they will explore them with a darker outlook on life.
All in all, I enjoyed Romancing the Dark in the City of Light. It's a different take on a very serious issue that plagues many teenagers, and the backdrop of Paris, France makes it different and unique. While I wouldn't say that all of it is realistic (remember... magical realism), I'd say that Jacobus really captures what it's like to be depressed and lonely in a city with countless people. I will warn readers that there might be triggers (depression, suicidal thoughts, sexual violence), so caution would be advised when reading this. This novel would be enjoyable for fans of All the Bright Places and It's Kind of a Funny Story.
Ann Jacobus earned an MFA in Writing for Children and Young Adults from Vermont College of Fine Arts. She lived with her family for many years in the Arabian Gulf and in Paris France. She now lives in San Fransisco where she writes, reads, volunteers weekly on a suicide crisis line, and frequently resorts to crock-pot meals of canned soup, fowl, and whatever is in the fridge.



An Excerpt from Romancing the Dark in the City of Light
Paris Métro Charles de Gaulle-Étoile The train rounds the turn in the tunnel and the interior lights flicker off. Summer Barnes, pressed by the crowd against the doors in the second car, regards the brightness of the station ahead. This must be how it looks when you have an NDE, she thinks. A near-death experience. You're rushing through a dark tunnel toward The Lightahead. Where Dad and Grandma wait with smiles and open arms.

A whiff of the garlicky breath of the old lady leaning into her brings Summer back to the moment.

Nearby, a young Goth girl lays her head against her boyfriend, closing her kohl-rimmed eyes. His pierced and studded face softens as they entwine like tangled wire.

That's the answer, Summer thinks. Three feet away.

Love.

If you're passionate about someone, and they feel the same, everything else must fall into place.

And have purpose.

She's in the most beautiful city in the world and all she can think about is getting on the next flight out. Or finding a pair of ruby slippers and tapping her heels. It's not that she doesn't appreciate it. Paris! La Ville Lumière. City of Light, endlessly cool. Where Mom lives, although seems to spend very little time.

Maybe being stuck in the tunnel has to do with coming to Paris unexpectedly. One minute she was sprawled on her dorm room bed, the next she was staring out an airplane window at the icy black north Atlantic far below.

Or maybe it has to do with the fact that lately, she's always solo. Whatever, the November cold and the short, sunless days weigh her down like a ton of snow.

She just needs to find someone in Paris to hold hands with.

A train thunders by in the opposite direction. Her ears pop.

Brakes screech. Her train jerks to a halt and Summer slams into the garlic lady. They've stopped before reaching the end of the crowded platform.

A woman screams. The rawness vibrates through the station and tunnels.

A trill of panic zaps her. The train doors open and no one moves for two beats. Then she and the others rush out. What if it's a bomb?

No, there's been some accident. Two Métro employees jog down the stairs and force their way through the jittery crowd. One opens the white electrical closet against the wall and the other scurries down the stairs at the end of the platform to the tracks.

Everyone waits. No one leaves. A little saucer-eyed girl grips a man's hand. Summer smiles reassuringly at her. That stupid dad needs to get his kid out of here instead of gawking at the show like a big-mouthed bass.

The Goth girl points at the tracks, her face frozen with shock.

The edgy mob surges forward and people crouch to peer between the cars at something under the train.

Probably a person. Summer struggles to think of ... Little Red Riding Hood, equilateral triangles, unfurled lilies.

It doesn't work. The tracks are practically yelling, Look over here! Plus people are hyperventilating up all the oxygen. She gropes for the silver flask of mandarin orange vodka in her pocket, unscrews it, and takes a deep swig.

Time to partir. She turns and collides with a tall guy in a dark wool coat and hat. "Pardon," she mutters, looking up at him.

He's her age and breathtakingly gorgeous. The kind of guy who would normally look right through her.

"Do you speak English?" she blurts out.

"I do." His dark, sympathetic eyes seem to say, Isn't this strange, isn't life awful?

"What happened?"

"That's a woman on the tracks," he says somberly. "Were you on the train?"

"Yeah." Summer rubs her eyes with her gloved hand. It's weird, but she's close to tears. "Did she ... fall? God, I hope she wasn't pushed."

"Here," he says. He nudges people out of the way by the edge of the platform between two cars. She leans in to look. Two Métro guys are straightening the cloth that is already covering the body.

A black, patent-leather, low-heeled pump lies on its side in the gravel between the rails. "Oh," she breathes. That solitary shoe makes her knees go rubbery. "How horrible."

The guy tilts his head. "Not necessarily. If she jumped, it may have been a release." He pauses. "A deliverance."

Summer blinks at him, then pivots and pushes her way to the exit stairs, heat creeping up her neck. That's exactly what she was thinking-that the lady is so lucky to be out of here. She knows the guy can't read her mind and doesn't mean anything by those words, but there it is: the real, and growing reason why she's got to find someone to love.

Copyright © 2015 by Ann Jacobus
The Giveaway
a Rafflecopter giveaway
Follow the Tour
September 30:
October 1:
October 2:
October 3:
October 4:
October 5:
October 6: