Waiting on Wednesday is a bookish meme created and hosted by Jill from
Breaking the Spine
.
Each week, bloggers shine the spotlight on upcoming book titles that they are waiting on. This is one of my favorite memes, and you've probably noticed it as a frequent feature on my blog.
It's pretty simple to participate in Waiting on Wednesday:
Create your own Waiting on Wednesday post that features an upcoming title (or titles) - I usually only go with one book a week because seeing all the titles can be a bit overwhelming for me.
Be sure to credit Jill somewhere in your post (see how I credited her above?)
Link up to the Linky on Jill's blog so that others can see your post
Waiting On...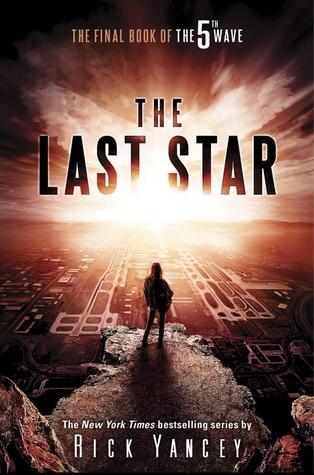 Title: The Last Star
Series: The 5th Wave
Author: Rick Yancey
Publisher: Putnam
Publication Date: May 17, 2016
We're here, then we're gone, and that was true before they came. That's always been true. The Others didn't invent death; they just perfected it. Gave death a face to put back in our face, because they knew that was the only way to crush us. It won't end on any continent or ocean, no mountain or plain, jungle or desert. It will end where it began, where it had been from the beginning, on the battlefield of the last beating human heart.

Master storyteller Rick Yancey invokes triumph, loss, and unrelenting action as the fate of the planet is decided in the conclusion to this epic series.
Why I'm Waiting...
Now that the cover has finally been revealed, I can share a book that I've been waiting to share on my Waiting on Wednesday posts for what seems like an eternity!
Even though I wasn't a huge fan of the second book in The 5th Wave series, I really enjoyed the first book, and seeing where Yancey took Cassie and company in The Infinite Sea. I hope that it gets back to the edge-of-my-seat feeling that I had when I read The 5th Wave, and I really hope that the Others get their asses handed to them. I'm expecting that The Last Star will be action-packed and will hit all the marks to make this trilogy one that will be remembered for years to come.
What Are You Waiting On...
Now I leave it up to you in the comments! Are you also a fan of Rick Yancey's 5th Wave trilogy and waiting to get your hands on The Last Star next spring? Are you waiting on different books? As always, feel free to let me know in the comments or feel free to leave a link to your own Waiting on Wednesday post! I'd love to know what everyone is planning on reading in the coming months.