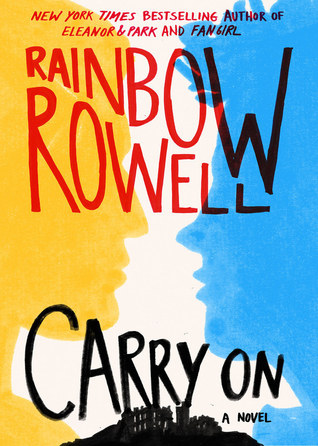 Title: Carry On
Author: Rainbow Rowell
Publisher: St. Martin's Griffin
Publication Date: October 6, 2015
Rainbow Rowell continues to break boundaries with Carry On, an epic fantasy following the triumphs and heartaches of Simon and Baz from her beloved bestseller Fangirl.

Simon Snow just wants to relax and savor his last year at the Watford School of Magicks, but no one will let him. His girlfriend broke up with him, his best friend is a pest, and his mentor keeps trying to hide him away in the mountains where maybe he'll be safe. Simon can't even enjoy the fact that his roommate and longtime nemesis is missing, because he can't stop worrying about the evil git. Plus there are ghosts. And vampires. And actual evil things trying to shut Simon down. When you're the most powerful magician the world has ever known, you never get to relax and savor anything.

Carry On is a ghost story, a love story, a mystery and a melodrama. It has just as much kissing and talking as you'd expect from a Rainbow Rowell story — but far, far more monsters.
My Review
Rainbow Rowell definitely has a bestseller on her hands with her latest YA novel, Carry On. Readers of Rowell's Fangirl will remember the title as the title of the piece of fanfiction being written by Cath, but this is nothing like what readers got in Fangirl. Simon Snow's world is better explained and more developed in this page turner.
Carry On isn't like any of Rowell's previous books (YA or adult fiction) because this time, she's diving into a new genre and unfamiliar territory. This time around, Rowell is tackling fantasy, something she only touched upon in Fangirl. While I wouldn't say the ideas in Carry On are completely original, it's a fun book to read, and it's interesting to be introduced to a new kind of world. Yes, there are parallels to a very popular fantasy series, but Rowell also includes a lot of new creatures and monsters to make Carry On stand out and be its own novel.
Carry On is told in the first person by multiple characters. (And I really do mean multiple characters!) At first, I thought this would become confusing or frustrating because sometimes it's hard to make two voices seem different, but it really works for Ms. Rowell in this novel. I don't even know just how many characters narrate, but all of them have a very distinct style. It's easy to pick up the book mid-chapter and just know who is narrating the part that you're reading.
Most of Carry On is set in the UK at a magical school called Watford. What I liked about Watford is that it's full of all of these different buildings. (There's a map on the inside of the book for those of you who love maps that is way better than explaining the school's layout.) There are chapels and dormitories and other historical buildings. Now there are some buildings that are shown on the map that Rowell didn't really get to explain, and I kind of wish that she could have. I'm sure that she could have went on and on for days to really establish Simon's Snow's world, but it's kind of hard to do that in a five-hundred page book that takes place during Simon's eighth and final year of school. All in all, it seems like a pretty cool place to go to school.
I don't really know what I was expecting from
Carry On
when I started reading it. I was hoping that it wouldn't be a Harry Potter retelling, even though it seemed like it was on its way to becoming one after reading
Fangirl
. (If you remember
Fangirl
, it seemed like a lot of the material for the Simon Snow series was directly borrowed from Ms. Rowling's international phenomenon.) If anything, I'd say that the plot of
Carry On
borrows from many different stories and novels that follow what Joseph Campbell calls The Hero's Journey, only this time, readers are picking up in the middle of the journey.
Carry On
is a tribute to the great stories and novels of the past, but it's also something new and fresh.
So if you're looking for a different kind of YA novel, look no further than Rainbow Rowell's
Carry On
. It's full of everything that Rowell's readers want - friendship, kissing, romance, and surprises - but it's also full of things that aren't expected from Rainbow Rowell because of it being a fantasy novel. I'd recommend this book to readers who read and enjoyed
Fangirl
, but I'd also recommend this novel to fantasy readers who have yet to give Ms. Rowell a chance. It's addictive, and you definitely won't be able to put it down!