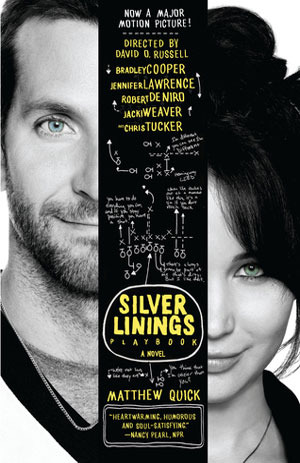 Title: The Silver Linings Playbook
Author: Matthew Quick
Format: Paperback (Movie Tie-In Edition)
Genre: General Fiction, Adult
Publication Date: October 16, 2012
Original Publication Date: September 2, 2008
Source: Purchased
Meet Pat. Pat has a theory: his life is a movie produced by God. And his God-given mission is to become physically fit and emotionally literate, whereupon God will ensure a happy ending for him -- the return of his estranged wife Nikki. (It might not come as a surprise to learn that Pat has spent time in a mental health facility.) The problem is, Pat's now home, and everything feels off. No one will talk to him about Nikki; his beloved Philadelphia Eagles keep losing; he's being pursued by the deeply odd Tiffany; his new therapist seems to recommend adultery as a form of therapy. Plus, he's being haunted by Kenny G!



In this enchanting novel, Matthew Quick takes us inside Pat's mind, showing us the world from his distorted yet endearing perspective. As the award-winning novelist Justin Cronin put it: "Tender, soulful, hilarious, and true, The Silver Linings Playbook

is a wonderful debut."
My Review
Now I know I haven't posted a review on an adult fiction book in a while, but I just had to review this book on my blog. I am twenty-five, and I do enjoy the occasional adult book. Besides, as I was reading, I felt like this book read like a YA book, and it would be something that my readers would enjoy if they haven't read it yet.
I'll admit that I've been wanting to read this book for a really, really long time. I just never found it in a store until I was browsing Half Price Books one day this summer. I immediately grabbed it and threw it in my basket. It took a few months for me to get to it, but with the help of a Pick it For Me challenge, I read finally read it. Boy am I glad that I did.
The Silver Linings Playbook is a delightfully entertaining tale of a man who has depression. Now you're probably asking yourself, "Why is she saying the book is delightful if it's about a guy with depression," right? Well I'll just tell you that the way that Quick tells Pat's tale is light hearted and funny. I'll be the first to admit that I sometimes find books about adults with depression and other mental heath problems to be difficult to read. That was not the case with The Silver Linings Playbook at all. It didn't feel like a chore to read this book, and that's the way that you want a book with heavy subject matter to be. Quick definitely nails it when it comes to taking heavy subject matter and turning it into a great tale.
The characters are quirky, but ultimately realistic, and that's what I think matters most in books like this. I felt like I was going through Pat's journey with him. I loved pretty much everything about him from his work ethic to the way he hums when something bothers him. Tiffany... well Tiffany is definitely something else, but I really liked her and everything she contributed to the novel. I liked learning about Pat's friend from the bad place, Danny. Pat's parents are also interesting, and I was able to see that it was hard on them to deal with their son, but they were great supporting characters.
Aside from adults who already enjoy Quick's novels, I'd recommend this book to readers who enjoy YA books that deal with depression because it's a very easy transition into the world of adult fiction with the writing style that Quick uses. I would also recommend this book to anyone who is just interested in stories about coping with all the lemons that life throws at you.