TBR Thursday is a meme that was started by Sarah (
Words with Sarah
). What you need to do to participate is find a book that has been on your TBR list for three or more months, and make a conscious effort to read it. You'll then make a post and link back to Sarah's blog.
It's been a while since I've participated in TBR Thursday, but only because I've been reading a lot of newer releases. The book I'm focusing on this week is technically a brand new book, but I've been waiting for it for a while.
This week, I'm reading The Infinite Sea by Rick Yancey. It is the highly anticipated sequel to The 5th Wave.
I read The 5th Wave this past summer, and I immediately knew that I needed to read the sequel. I waited and waited. I pre-ordered the book. But... when it got to my house, I had a busy schedule full of ARCs and R2Rs. But I have some spare time right now, and I am reading this baby before anyone spoils it for me!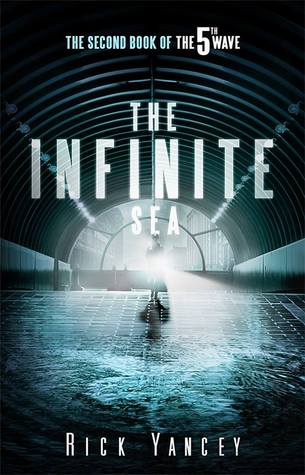 Synopsis:
How do you rid the Earth of seven billion humans? Rid the humans of their humanity.

Surviving the first four waves was nearly impossible. Now Cassie Sullivan finds herself in a new world, a world in which the fundamental trust that binds us together is gone. As the 5th Wave rolls across the landscape, Cassie, Ben, and Ringer are forced to confront the Others' ultimate goal: the extermination of the human race.

Cassie and her friends haven't seen the depths to which the Others will sink, nor have the Others seen the heights to which humanity will rise, in the ultimate battle between life and death, hope and despair, love and hate.
So what are you reading this week? As always, feel free to let me know in the comments! I'd love to see all the picks you've made.
Happy reading!