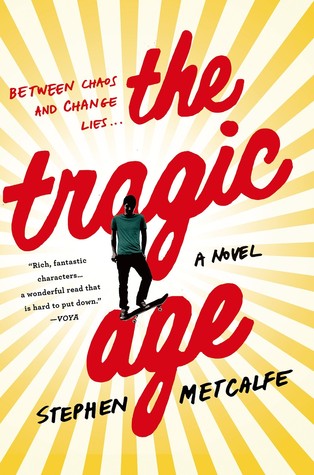 Title: The Tragic Age: A Novel
Author: Stephen Matcalfe
Publisher: St. Martin's Griffin
Publication Date: March 3, 2015
Source: ARC from publisher via Goodreads First Reads giveaway program
Rating: ☆☆
This is the story of Billy Kinsey, heir to a lottery fortune, part genius, part philosopher and social critic, full time insomniac and closeted rock drummer. Billy has decided that the best way to deal with an absurd world is to stay away from it. Do not volunteer. Do not join in. Billy will be the first to tell you it doesn't always work— not when your twin sister, Dorie, has died, not when your unhappy parents are at war with one another, not when frazzled soccer moms in two ton SUVs are more dangerous than atom bombs, and not when your guidance counselor keeps asking why you haven't applied to college.
 
Billy's life changes when two people enter his life. Twom Twomey is a charismatic renegade who believes that truly living means going a little outlaw. Twom and Billy become one another's mutual benefactor and friend. At the same time, Billy is reintroduced to Gretchen Quinn, an old and adored friend of Dorie's. It is Gretchen who suggests to Billy that the world can be transformed by creative acts of the soul. 

With Twom, Billy visits the dark side. And with Gretchen, Billy experiences possibilities.Billy knows that one path is leading him toward disaster and the other toward happiness. The problem is—Billy doesn't trust happiness. It's the age he's at. The tragic age.

Stephen Metcalfe's brilliant, debut coming-of-age novel, The Tragic Age, will teach you to learn to love, trust and truly be alive in an absurd world.
My Review
The Tragic Age by Stephen Metcalfe was definitely one of my more anticipated debut novels of 2015. When I saw the synopsis, I knew I wanted to read it, especially with the comparison to The Catcher in the Rye because I love The Catcher in the Rye. Then I saw that Stephen worked on one of my favorite movies, Pretty Woman. I was sold, and I knew that I would be reading it. I became even more excited when I found out that I had a galley on the way.

You know the saying, "Less is more?" Someone should have given Stephen Metcalfe that piece of advice after reading a draft of The Tragic Age. While the story is extremely interesting and intriguing at first, Metcalfe just includes too much information. All was well when I was reading the first few chapters, and I was laughing and enjoying myself. Then suddenly, about a quarter of the way through the book, things turned ugly. Reading this book became tedious, and I really started to feel like I was in a reading slump. Only I wasn't in a slump; I just wasn't enjoying the book anymore. I kept reading because I was hoping to rediscover a greatness in the book, but it wasn't the case. I probably would have DNFed this book, but by the time I really felt like things weren't going to get better, I was too far into it. It would have felt pointless to DNF it.

The characters in the book are some of the most messed up characters I have ever come across in a book. At first, I really liked Billy, but as the book progressed, I began to strongly dislike him. I understand that he has a lot to deal with, but he went from being a likeable character to an irritating character. To be honest, I didn't even know his name throughout most of the book because he's just not memorable. That's kind of a problem because he's the narrator. The other main characters, Twom, Ephraim, and Deliza bring uniqueness and a little bit of diversity to the book, but they don't save the poor writing and plot.

I did find a few things that I liked about the book. In many of Billy's tangents, he refers to historical events and pop culture. I was able to tell that he was a well-thought character and that Metcalfe put a lot of effort into creating him and making him this super smart but careless human. I also liked the minor character, Gretchen, and her connection to Billy and his family. I think she was a much needed character for the book, but I just wish that Metcalfe would have included her in more parts of the novel.

Unfortunately, I wouldn't recommend this book to anyone just because of how much I disliked it. It's just not a good book, and I would hate to be the reason behind someone wasting their time by reading it. I would feel extremely guilty if I did, especially if the person ends up disliking it as much as I did.