The Friday 56 is a weekly bookish meme hosted by Freda over at
Freda's Voice. The rules are easy to follow, and this is a great way to share books with other bloggers.
So what do you need to do to participate in The Friday 56?
Go to page 56 (or 56% for e-readers) of the book you're currently reading
Grab a few sentences to share with your blog's readers, but be sure not to spoil anything major
Add your name to the link-up on Freda's blog
This week, I'm reading
My Best Everything
by Sarah Tomp. The book releases on Tuesday, so look for a review between now and then.
It's about a bright teenager who is getting ready to leave her small town life for good. Unfortunately, her dad loses all of her tuition money, so it looks like she'll be stuck in Dale, Virgina for a little longer. Then she cooks up a plan to make and sell moonshine so she has her tuition money.
As of right now, I'm about 30% through the book, and I can tell you that I'm really liking it so far.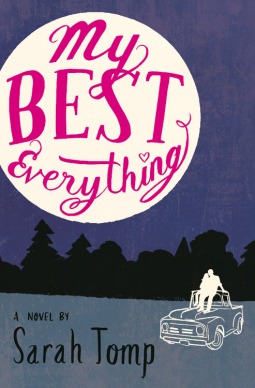 "We hadn't done much beyond kissing. Heated hours of kissing, but for someone measuring progress, there hadn't been any quantifiable change. All clothes stayed on. Curious hands had roamed the landscapes of each other, but there'd only been quick, furtive slips beneath to reach hot skin. The way I ached inside whenever you held me close felt like something so different than hard science."