The Friday 56 is a weekly bookish meme hosted over at
Freda's Voice. The rules are easy to follow, and this is a great way to share books with other bloggers.
So what do you need to do to participate in The Friday 56?
Go to page 56 (or 56% for e-readers like Kindle and Nook) of the book you're currently reading

Grab a few sentences to share with your blog's readers, but be sure not to spoil anything too major

Add your name to the link-up on Freda's blog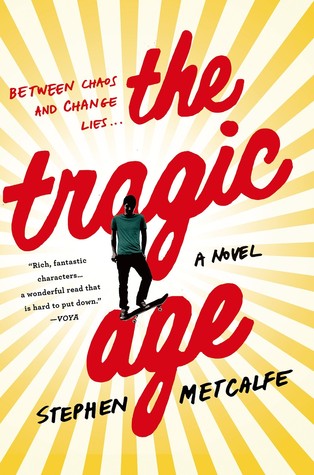 This week, I've been reading an advance copy of The Tragic Age by Stephen Metcalfe that I won through the Goodreads First Read program. I'll be reviewing it as soon as I'm finished reading, which will probably be soon because I only have about one hundred pages left to finish. Keep your eyes peeled within the next week if you're curious to find out more about the book and what I thought of it.
The following is dialogue from one of the book's characters, Twom Twomey. He's pretty strange, but I like him so far.
"'Okay, dude, it's like this. My folks are messed up, okay? They're fucking derelicts. The only reason they stay together is because nobody else would have them. Living with relatives is pretty much all I do. Okay?'"