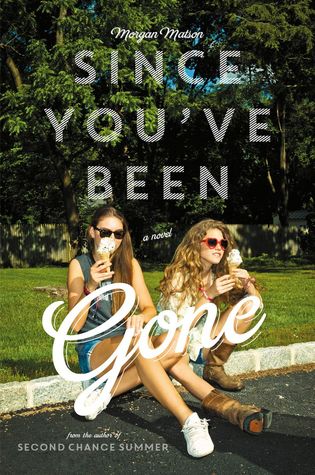 Title: Since You've Been Gone
Author: Morgan Matson
Publisher: Simon & Schuster
Publication Date: May 6, 2014
Source: Purchased
The Pre-Sloane Emily didn't go to parties, she barely talked to guys, she didn't do anything crazy. Enter Sloane, social tornado and the best kind of best friend—the one who yanks you out of your shell.





But right before what should have been an epic summer, Sloane just… disappears. No note. No calls. No texts. No Sloane. There's just a random to-do list. On it, thirteen Sloane-selected-definitely-bizarre-tasks that Emily would never try… unless they could lead back to her best friend.



Apple Picking at Night? Okay, easy enough.

Dance until Dawn? Sure. Why not?

Kiss a Stranger? Um...



Getting through Sloane's list would mean a lot of firsts. But Emily has this whole unexpected summer ahead of her, and the help of Frank Porter (totally unexpected) to check things off. Who knows what she'll find?

Go Skinny Dipping? Wait ... what?
My Review
If there's one thing I've learned about the YA book community, it's that mostly everyone loves Morgan Matson. I don't think I've come across a single person who hasn't enjoyed at least one of her books, so when my blogging friends found out that I had never read a Morgan Matson book, they told me to immediately read one. I was able to find this one at a second hand book store, so they convinced me to read it right away. I'm glad that they did because I'm able have crossed it off my list. I liked the book, but sadly, I wouldn't say that this book is anywhere close to a favorite of mine.
The inside cover art of Since You've Been Gone is beautiful.
I guess the thing about
Since You've Been Gone
that really bothered me is I felt like even though things were happening and Emily was crossing items off her list, I felt like things were really happening for no real reason. It was pretty clear to me from the first page that Sloane wasn't coming back, and I kind of felt like Emily was doing all of these things without real reason. By the end of the book, I was pleasantly surprised because I really enjoyed the build up to the end of the novel. Things started to fall into place for Emily, and I was only wishing that the pacing of those final chapters matched the pacing in the previous chapters.
There were a few things that I really enjoyed about the book, and those things held my interest to keep me reading. I really liked the inclusion of playlists. You know me... I love music, so being able to actually see, in writing, what Emily and Frank listen to while on their runs really brought the book to life for me. I also really liked how Matson included the image of Sloane's letter to Emily. It was a nice touch. I also liked the slow change in Emily over the summer. Even though the plotting of her change felt a bit unrealistic, the changes that Emily made for herself felt very real.
So... did I enjoy
Since You've Been Gone
? Yes. I just think that it was kind of long, overdone, and a bit difficult. I probably wouldn't add this to my list of books to reread, but I'm glad that I was finally able to read (and somewhat enjoy) a Morgan Matson book.