Oh boy! Where does the time go? It's hard to believe that December and the holiday season is already here. It really seems like it was just yesterday that The Hardcover Lover got a makeover and new features were unveiled.
One of those features was The Hardcover Lover's Reading Challenge Update. So just what is this post about? I'll tell you...
At the end of 2015, I decided that I was reading too many similar books and too many books that were inside of my comfort zone. To change this, I decided to try reading some different books, and the best way to do that was to join a few different reading challenges, especially challenges that focused on genres that I don't typically read. To keep track of the reading challenges, I came up with a way to keep track of the books I was reading for the challenges, and it is the very generically named Reading Challenge Update.
I feel like a broken record, but once again, I didn't get a lot of reading done during the month of November. In case you didn't know... it's really hard to balance working a full time teaching assistant job, a part time job, blogging, and other responsibilities with reading. The scale sadly tips towards everything else, leaving me very little time to read.
During the month of November, I sadly only finished two books, and I DNFed one that just wasn't holding my interest. And one of the books that I read was actually for work. Oops!
Backlist Reading Challenge
The Backlist Books Reading Challenge is hosted by Bekka at
Pretty Deadly Reviews
. The goal of the challenge is to read as many backlist (one year or older) books that you can during 2016.
Book Read
Level Up
was the book that I had to read to work to prepare for a Battle of the Books competition that we prepared for the kids. I didn't think that I'd like the book, especially because I haven't really played video games since the Nintendo Entertainment System, but I really liked it. If you're still curious, feel free to check out my
review
.
Contemporary Romance Reading Challenge
The Contemporary Romance Reading Challenge is hosted by Jess of
Gone with the Word
s and Danielle of
Love at First Page
. It's all about reading those swoony contemporary romance novels. Each month, participants link up their reviews for the contemporary romances that they've read.
Book Read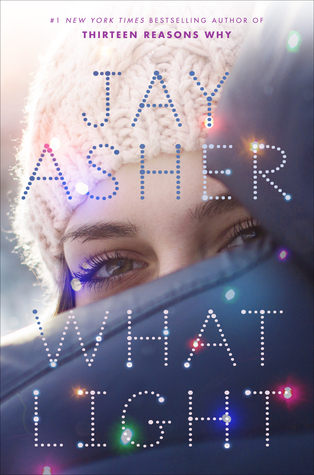 Jay Asher's
What Light
is a book that I was lucky enough to receive from Penguin Teen a bit before publication date. Because of work, I wasn't able to read it until a bit later, but I'm glad that I saved it for late November because it got me in the Christmas spirit! All in all, it was a pretty good book. Feel free to read my review
here
.
I really am hoping to read more books in December, especially with Christmas break coming up, but honestly... I'm not holding my breath. (And believe me... I hate saying stuff like that!) If I read five books this month, I'll be happier than a kid in a candy store.
How are your challenges coming so far this year? Are you on track, behind, ahead? Feel free to let me know in the comments! And definitely feel free to let me know what challenges you're thinking of joining for 2017!