Happy Saturday, everyone! Most of you might know that Soundtrack Saturday was once a pretty prominent feature here on The Hardcover Lover. But life and crappy people got in the way, so I stopped doing the posts for a while. Now I'm ready to start tacking the meme that I've invested so much time in, and it starts today!
In case you aren't familiar with Soundtrack Saturday, it's a bookish meme that I created a little bit after starting my blog to blend my love of books and music together. Each Saturday I'll choose a book and create a playlist that captures the essences of the plot, themes, and characters.
But that's not all! You can participate, too! I'm inviting all interested book bloggers to participate in this meme! Each week, I'll be posting a linky at the bottom of my post so that you can share your Soundtrack Saturday playlist for other bloggers and blog readers to find.
Want to participate? Awesome! Just follow these simple steps below to join in on the fun!
Choose a book that you've read or are currently reading - any book is fine as long as you can create a playlist for it
Create a full (10+songs) or a mini (four songs) playlist for the book of your choosing

For more detailed instructions on the different types of soundtracks and how to make them, please visit the meme's homepage.

Please credit me somewhere in your post. It can be as simple as "Soundtrack Saturday is a weekly meme that was created by Erin at The Hardcover Lover."
Leave a comment on my blog post if you enjoy the feature
Add your name to the link-up tool at the bottom of the post
What Light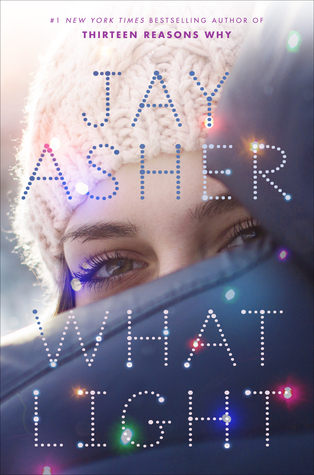 Title: What Light
Author: Jay Asher
Publisher: Razorbill
Publication Date: October 18, 2016

From Jay Asher, #1 New York Times bestselling author of Thirteen Reasons Why, comes a romance that will break your heart, but soon have you believing again. . . .

Sierra's family runs a Christmas tree farm in Oregon—it's a bucolic setting for a girl to grow up in, except that every year, they pack up and move to California to set up their Christmas tree lot for the season. So Sierra lives two lives: her life in Oregon and her life at Christmas. And leaving one always means missing the other.

Until this particular Christmas, when Sierra meets Caleb, and one life eclipses the other.

By reputation, Caleb is not your perfect guy: years ago, he made an enormous mistake and has been paying for it ever since. But Sierra sees beyond Caleb's past and becomes determined to help him find forgiveness and, maybe, redemption. As disapproval, misconceptions, and suspicions swirl around them, Caleb and Sierra discover the one thing that transcends all else: true love.

What Light is a love story that's moving and life-affirming and completely unforgettable.
The Soundtrack
I couldn't make a playlist about a Christmas story without all the Christmas music, right? Okay... so I didn't use all the Christmas music, but believe me... I wanted to! I thought the songs and artists below captured the feelings of the season and the book, and I really hope you enjoy my soundtrack to Jay Asher's What Light.


Like the playlist? Feel free to let me know in the comments below, especially if you've read What Light! I'd love to know what you have to think and what songs you'd add if you were making your own playlist for this cute Christmas book!
Playing along this week? Don't forget to link up below so I can check out all those awesome bookish soundtracks!