Welcome back to Soundtrack Saturday, everyone! As you may know, Soundtrack Saturday is a feature original to The Hardcover Lover that showcases the book soundtracks that I make.
As with all bookish memes, there are a few steps to follow to help you create your own Soundtrack Saturday post:
Choose a book that you've read
Create a mini (four songs) or full soundtrack (ten-fifteen songs) for that book based on characters and plot details


For more detailed instructions, please visit the meme's homepage.

Please credit me somewhere in your post


It can be as simple as "Soundtrack Saturday was created by Erin at The Hardcover Lover."

Leave a comment on my blog post if you enjoy the feature
Add your name to the link-up tool at the bottom of the post
All the Bright Places
. You might remember that I read and
reviewed
this one a few weeks ago, and while it's not a favorite of mine, it has a lot of moments that these songs fit into perfectly.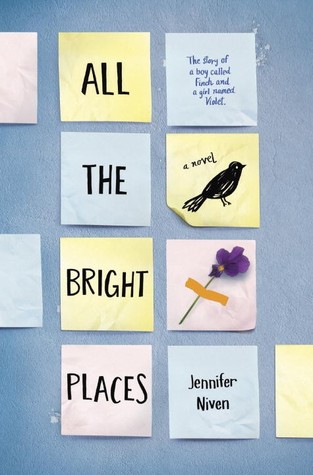 "Beautiful Disaster" by Kelly Clarkson
"Jesus Take the Wheel" by Carrie Underwood
"Warrior" by Demi Lovato
"Kiss Me" by Ed Sheeran
"Poison and Wine" by The Civil Wars
"Jar of Hearts" by Christina Perri
"I Melt With You" by Modern English
"Now is the Start" by A Fine Frenzy
"Asleep" by The Smiths
"Already Gone" by Kelly Clarkson
"She Will Be Loved" by Maroon 5
"Hear You Me" by Jimmy Eat World
"Closer to Love" by Mat Kearney
"The Sun Will Rise" by Kelly Clarkson featuring Kara DioGuardi