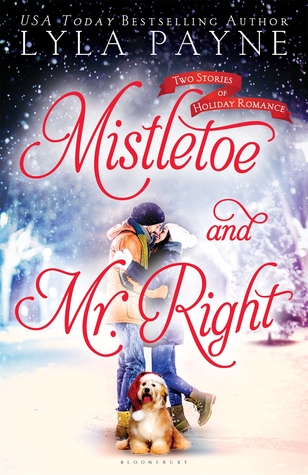 Title: Mistletoe and Mr. Right: Two Stories of Holiday Romance
Author: Lyla Payne
Publisher: Bloomsbury Publishing, INC.
Publication Date: October 6, 2015
Two tales of holiday romance from USA Today bestselling author Lyla Payne, where lost love is found just in time, and Mr. Right could be right under your nose.

In "Mistletoe and Mr. Right," Jessica (not Jessie) takes a flying leap and follows her boyfriend home for the holidays for Christmas break, sure that Ireland will provide the perfect backdrop to the beginning of their happily ever after. But it turns out his family--and his gorgeous ex-girlfriend--don't feel the same way, and the only person making the trip worthwhile is the local farmhand, who has a way of showing up when Jessica needs him most . . . and least.

The holiday hijinks continue in "Sleigh Bells and Second Chances," when Jessica's best friend makes her own way across the pond! Christina Lake does not want to be away at Christmas, but it's her duty to babysit one of London's hottest bands at their last-minute concert on Christmas Eve . . . even though she had a fling with Cary, the band's lead singer, that never officially ended. Now forced to reconnect, Christina is starting to think that maybe London is exactly where she's supposed to be to get the perfect New Year's kiss--at least until she finds out that he's been lying the whole time. Can Cary find a way to prove himself before the clock strikes twelve? Or will the New Year ring in a new romance?

Lyla Payne wraps up two perfect holiday novellas, ties them with a ribbon of romance, and tops them with a light dusting of snow. Perfect to curl up with under the tree. Just add hot cocoa!
My Review
Because this book contains two different novellas, I thought it would be best to do two mini reviews, one for each novella. You'll find a separate review and rating for each novella below.
"Mistletoe and Mr. Right"
Jessica McFarlane, a college student, has her whole life planned out, and that includes getting engaged within a year of her college graduation date. That means risking everything, including her relationship, so she can fly to Ireland to prove to her boyfriend that she's completely serious about him and ready for the next step. Sound like a grand plan, right?
While Jessica's Irish adventure doesn't go as planned, readers will find that she's not your average character. She has layers that she hasn't peeled back, and she has stories that she hasn't yet shared with her boyfriend, Brennan. But she's willing to share them with the Donnelly's farmhand, Grady. I really enjoyed getting to know her as the novella progressed, and I think readers will be attracted to her because she hasn't had a perfect home life.
My only huge complaint about this novella would be that it is very predictable. From the moment that Payne introduces Grady, I was able to tell where the story would be going. I don't think it's a bad thing to be able to predict what's going to happen, but it is nice to be surprised when reading. "Mistletoe and Mr. Right" just doesn't have the surprises that I craved. Other smaller complaints include not getting to know secondary characters and the fact that Jessica's story is worthy of a complete novel.
This short novella (only about 150 pages in print) is cute, and would be a good way to introduce readers to New Adult. College-aged readers will like that they can relate to Jessica, but readers who don't necessarily like the all the sex that many NA authors include in books will like that this novella isn't explicit and full of erotic scenes. It briefly touches on many of the more mature themes (college life, sex, impeding adulthood, etc.) that readers are finding in New Adult books, but it does so in a fun and laid back way.
"Sleigh Bells and Second Chances"
"Sleigh Bells and Second Chances" isn't the most honest of titles, but the second half of the title is such a fitting one for the second novella in Ms. Payne's Christmas collection. The novella's protagonist, Christina Lake, isn't just giving a second chance to one person during her stay in London; she's in the position to offer second chances to two people who were once important figures in her life. And trust me on this one... Nothing goes as planned.
Christina shows up in London, ready to work with Pursuant, even though she once had a fling with the band's front man, Cary. She's determined to stay professional while working as their publicity intern, but can that really happen once she sees him? On top of all of that drama, Christina also comes face-to-face with her estranged father, who just so happens to live in London.
The surprise I was looking for in "Mistletoe and Mr. Right" is found in the first few pages of "Sleigh Bells and Second Chances" when readers find out the the two novellas are actually companion novellas! I won't say how, readers will enjoy the cute way that these two stories relate to one another. It was entertaining to see everything come together at the end, and readers will be overjoyed by the end of this novella.
Unrealistic? Yes! There's just too many coincidental events in "Sleigh Bells and Second Chances" for it to be a great read, but it's certainly not a bad read. The setting of London, England is wonderful, and seeing how it all comes together definitely makes this Christmas story worthy of anyone's TBR. The story is cute, and I think New Adult readers will really enjoy this steamier story in Ms. Payne's holiday bind-up.
Do yourself a favor, and read these novellas come Christmas time. They will warm your heart and get you in the Christmas mood.
Lyla Payne is the

USA Today

bestselling author of the Whitman University series, the Lowcountry Ghost books

,

and

Mistletoe and Mr. Right

. She graduated from Texas Christian University with a degree in film but no desire to tackle Hollywood, and made it through three quarters of a M.A. in ancient history before writing took over. She lives in the Midwest with her two dogs, two cats, and the characters in her head.