Waiting on Wednesday is a weekly, bookish meme created and hosted by Jill from
Breaking the Spine
. Each week, bloggers shine the spotlight on upcoming book titles that they are waiting on.
This is a meme that I post a lot because it's really fun to share what books I'm waiting on with my readers. I also love seeing what everyone else is looking forward to.
It's pretty simple to participate in Waiting on Wednesday:
Create your own Waiting on Wednesday post that features an upcoming title (or titles) - I usually only go with one book a week because seeing all the titles can be a bit overwhelming for me.
Be sure to credit Jill somewhere in your post (see how I credited her above?)
Link up to the Linky on Jill's blog so that others can see your post
Waiting On...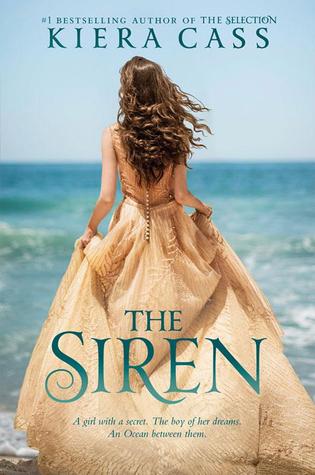 Title: The Siren
Author: Kiera Cass
Publisher: HarperTeen
Publication Day: January 26, 2016
From Kiera Cass, #1 New York Times bestselling author of the Selection series, comes a sweeping stand-alone fantasy romance.

A girl with a secret.
The boy of her dreams.
An Ocean between them.

Years ago, Kahlen was rescued from drowning by the Ocean. To repay her debt, she has served as a Siren ever since, using her voice to lure countless strangers to their deaths. Though a single word from Kahlen can kill, she can't resist spending her days on land, watching ordinary people and longing for the day when she will be able to speak and laugh and live freely among them again.

Kahlen is resigned to finishing her sentence in solitude...until she meets Akinli. Handsome, caring, and kind, Akinli is everything Kahlen ever dreamed of.

Falling in love with a human breaks the Ocean's rules. But for the first time in a lifetime of following the rules, Kahlen is determined to follow her heart.
Why I'm Waiting...
It's no secret that I'm a fan of Kiera Cass' Selection series. I've read all the books and the novellas, and I want more from her. On the day that I went to order Kiera's self-published book, The Siren, I saw that it was no longer available for purchase. That was the day that HarperTeen announced that they would be re-releasing a more polished form of it. I was upset because I knew I should have ordered it sooner, but I was also excited to be able to read it for the first time. Then I saw that beautiful cover, and I was hooked.
What Are You Waiting On...
Now I want to know what everyone else is thinking! Are you also waiting to get your hands on Kiera Cass' The Siren? Is there another book that has caught your eye? As always, feel free to let me know what you're waiting on in the comments, and feel free to leave links to your own Waiting on Wednesday posts. I'd love to check them out!