Waiting on Wednesday is a weekly, bookish meme created and hosted by Jill from
Breaking the Spine
. Each week, bloggers shine the spotlight on upcoming book titles that they are waiting on. This is one of my favorite memes, and you've probably noticed it as a frequent feature on my blog.
It's pretty simple to participate in Waiting on Wednesday:
Create your own Waiting on Wednesday post that features an upcoming title (or titles) - I usually only go with one book a week because seeing all the titles can be a bit overwhelming for me.
Be sure to credit Jill somewhere in your post (see how I credited her above?)
Link up to the Linky on Jill's blog so that others can see your post
Waiting On...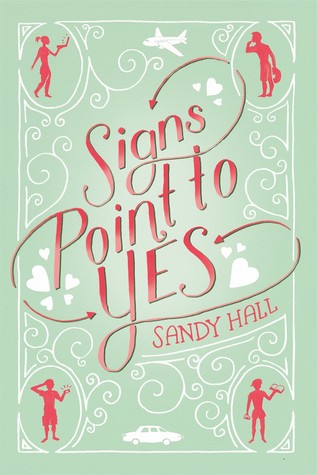 Title: Signs Point to Yes
Author: Sandy Hall
Publisher: Swoon Reads
Publication Date: October 20, 2015
The author of A Little Something Different brings you the most adorkable romance ever.

Jane, a superstitious fangirl, takes an anonymous babysitting job to avoid an unpaid internship with her college-obsessed mom. The only problem? She's babysitting the siblings of her childhood friend and new crush, Teo.

Teo doesn't dislike Jane, but his best friend Ravi hates her, and is determined to keep them apart. So Teo's pretty sure his plans for a peaceful summer are shot. His only hope is that his intermittent search for his birth father will finally pan out and he'll find a new, less awkward home. Meanwhile, at Jane's house, her sister Margo wants to come out as bisexual, but she's terrified of how her parents will react.

In a summer filled with secrets and questions, even Jane's Magic 8 ball can't give them clear answers, but Signs Point to Yes.
Why I'm Waiting...
I won't lie. I still haven't read Sandy Hall's debut, A Little Something Different, even though I really, really wanted to. (I'll probably get around to it one of these days.) But for some reason, Signs Point to Yes just caught my eye, and I think it's that Magic 8 Ball. (I love them!)
Silliness aside, Signs Point to Yes seems like it's going to be a YA romance with a lot of heart and very real issues, and that's why I'm stoked that I have an ARC that I'll be reading soon. (Keep an eye out for me on the blog tour!) I hope that this one will deliver some much needed giggles and swoon-worthy moments.
What Are You Waiting On...
As always, I'm interested in what you, my wonderful readers, have to say. Are you looking forward to Sandy Hall's next book or is something else calling your name? Feel free to let me know in the comments, and be sure to post links to your own Waiting on Wednesday posts so I can check out your posts!