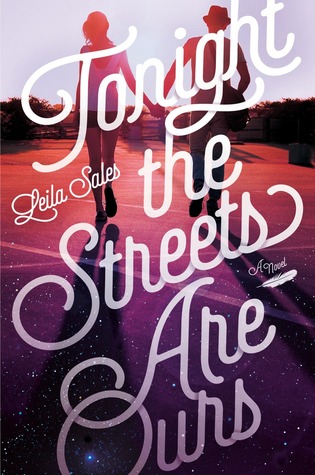 Title: Tonight the Streets Are Ours
Author: Leila Sales
Publisher: Farrar, Straus and Giroux (BYR)
Publication Date: September 15, 2015
From the author of This Song Will Save Your Life comes a funny and relatable book about the hazards of falling for a person you haven't met yet.



Seventeen-year-old Arden Huntley is recklessly loyal. Taking care of her loved ones is what gives Arden purpose in her life and makes her feel like she matters. But she's tired of being loyal to people who don't appreciate her—including her needy best friend and her absent mom.





Arden finds comfort in a blog she stumbles upon called "Tonight the Streets Are Ours," the musings of a young New York City writer named Peter. When Peter is dumped by the girlfriend he blogs about, Arden decides to take a road trip to see him.





During one crazy night out in NYC filled with parties, dancing, and music—the type of night when anything can happen, and nearly everything does—Arden discovers that Peter isn't exactly who she thought he was. And maybe she isn't exactly who she thought she was, either.
My Review
Told in third-person omniscience, Tonight the Streets Are Ours tells the story of a truly miserable teenage girl named Arden Huntley and her search for something... anything that will keep her sane during a tumultuous time. The novel by Leila Sales is a truly enjoyable book to read, and I look forward to reading more from Ms. Sales in the future.
The novel starts off in the present day, and then it shifts to the past, when Arden was a little girl. Then it flashes forward again to a time slightly before the already-established present. Throughout the novel, there are more flashbacks to provide background information, and then readers finally catch up to the events that were on the second page of the novel, and finish the book in the present time. Please don't let this confuse you! It's not a truly unique way to tell a story, but it's not something that readers see every day.
Arden and her family live in Cumberland, Maryland, a small and sleepy town that could fit in one of three states. As Sales puts it, "It was in northwestern Maryland, so far west it was almost West Virginia, so far north it was almost Pennsylvania, a solid two-hour drive from the nearest big city (which was Pittsburgh), in a corner of the world that should have been called MaryVirgiPenn, but wasn't." Now I've never been to Cumberland Maryland, despite living in that city that's only two hours away from it (accurate fact, by the way!), but from the way Sales describes it, it would be an interesting place for a day trip. There were many sections of text when she described the town, and it just seemed quaint, and I could really see it come to life while I was reading.
The characters aren't bad in this YA novel, but I should warn you... If you don't like moody teenagers, you probably won't like Arden Huntley. She's the girl who has always taken care of everybody else, and it's finally catching up to her. Of course she's mad! I would be angry if people were taking advantage of my kindness. But I really liked Arden. I felt like she was a very accurate depiction of a teen full of angst. She's happy at times and sad at others. She's just a real girl who is living in a pretty messed up world. Arden's best friend is Lindsey. They met when they were very young, and have been inseparable since. I liked Lindsey for a lot of different reasons. She's different. She's characterized to be in trouble a lot, and it works for her. And then we have the book's famous blogger, Peter. Peter is a bit of a mystery until Arden starts reading his blog, where she discovers all of his secrets. She feels like she really knows him, but in the end, she finds out that she never really knew him at all. There are other characters that are central to the plot, especially Arden's mother, but I think you should find out about her on your own!
Now let's talk about what happens to Arden and company in Tonight the Streets Are Ours. First of all, not a lot really happens in this book, as expected. Yes, there are the flashbacks that I told you about and the day-to-day things that Arden and Lindsey go through, but I was expecting more. I was really expecting to see more happen in Part Two of the novel, when Arden and Lindsey travel to New York City, because of the synopsis. Instead, readers get a section and a night that felt kind of rushed instead of the "night when anything can happen." It bummed me out a bit, but the resolution and the epilogue made up for it.
As I previously stated, I very much enjoyed this book, and I think it would be a wonderful addition to the Young Adult section in any public library. I also think it would be a great purchase for high school libraries because it just covers a lot of ground, and would reach so many different types of teenagers. If you're looking for a book full of emotions, I would recommend purchasing Tonight the Streets Are Ours, and reading it as soon as possible.