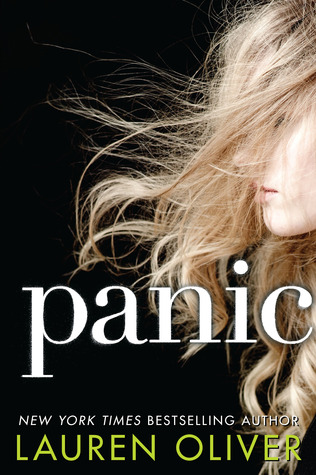 Title: Panic
Author: Lauren Oliver
Publisher: HarperCollins
Publication Date: March 4, 2014
Synopsis:
Panic began as so many things do in Carp, a dead-end town of 12,000 people in the middle of nowhere: because it was summer, and there was nothing else to do.

Heather never thought she would compete in Panic, a legendary game played by graduating seniors, where the stakes are high and the payoff is even higher. She'd never thought of herself as fearless, the kind of person who would fight to stand out. But when she finds something, and someone, to fight for, she will discover that she is braver than she ever thought.

Dodge has never been afraid of Panic. His secret will fuel him, and get him all the way through the game, he's sure of it. But what he doesn't know is that he's not the only one with a secret. Everyone has something to play for.

For Heather and Dodge, the game will bring new alliances, unexpected revelations, and the possibility of first love for each of them—and the knowledge that sometimes the very things we fear are those we need the most.
Review:
When I first decided to read this book, I saw a lot of people on social media saying that they couldn't understand how it was going to be a stand alone book from the description that was provided, but Panic is definitely a standalone novel. I was probably one of the few people who liked the idea of it being a standalone, and it made me even more excited to read this book from Ms. Oliver.

If you're looking for a complex YA heroine, Heather really isn't it. She's not very complicated, and I liked her for that. I feel like she represents the average teenager of today. She and her sister have a tough life. She's just trying to find her way through life after graduating high school, just like most teens do. She realizes that everything will change when her when her friends, Bishop and Nat, move away and she remains stuck in Carp. Dealing with friends moving away is something that teens, especially economically disadvantaged teens, deal with all the time. On top of feeling sad about losing her friends, she also has to deal with some relationship problems. She's a very realistic YA character.

The pacing of the plot in this novel is great. I never felt like things were being rushed or included just for the sake of trying to get readers. Oliver's descriptions of events in the book are almost perfect; she makes you feel like you're actually watching everything. I like the details that Oliver includes in the challenges of Panic. I could actually tell that she took the time to think of a big game like Panic, but she also put a great deal of time and thought into making the game seem like it's real with the many different challenges and rules.
Although I was able to correctly predict a lot of events and plot details in this book, I'd definitely recommend it to fans of contemporary YA fiction. I'd also recommend it to readers who like mysteries and thrillers. I think it would appeal to readers of those genres and even introduce them to the others if they haven't read them yet because it is a perfect blend of thriller and contemporary.
Want More Lauren Oliver? Enter to Win a Paperback Copy of Before I Fall (U.S. ONLY):
a Rafflecopter giveaway
*Please be sure to check the Giveaway Rules
here
.*