I know I've said it before, but I really do like Mondays. There's something nice about being able to start over, and each week, Monday brings that.
Here in the book blogging world, Mondays are all about sharing the books that you're reading. This meme, It's Monday! What Are You Reading is brought to you by
BookJourney
. I used to try to participate every week, but I felt like things were getting repetitive, especially when things got in the way and I hadn't finished my book(s) from the previous week. You've probably noticed that my posts are a little more sporadic now, but I still love sharing!
I'll probably be able to get a lot more reading done this week than I have in the past few weeks because of Election Day. That might sound crazy, right? Well my dad is involved in politics, and because of that, he is supposed to stand at the polls all day and pass out "literature." He works, so it usually gets put on me. A lot of people vote during the morning and evening rush hours, so I get to sit outside and read when no one is there.
What Am I Reading This Week?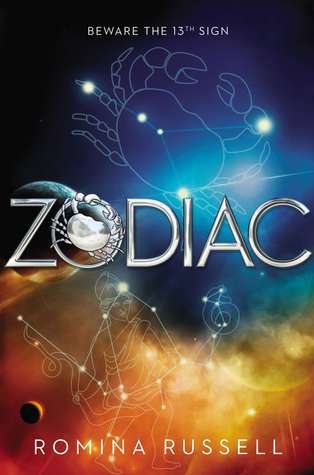 Title: Zodiac
Author: Romina Russell
Synopsis:
At the dawn of time, there were 13 Houses in the Zodiac Galaxy. Now only 12 remain....

This first book off an epic sci-fi-meets-high-fantasy series takes place in a galaxy inspired by the twelve astrological signs. ZODIAC is rendered with a stunning complexity that both transports readers to a fascinating new world and holds up a mirror to reflect how we can better know each other in our own.
Title: Flawless (Pretty Little Liars #2)
Author: Sara Shepard
Synopsis:
In the exclusive town of Rosewood, Pennsylvania, where the sweetest smiles hide the darkest secrets, four pretty little liars--Spencer, Aria, Emily, and Hanna--have been very bad girls. . . .

Spencer stole her sister's boyfriend. Aria is brokenhearted over her English teacher. Emily likes her new friend Maya . . . as much more than a friend. And Hanna's obsession with looking flawless is literally making her sick. But the most horrible secret of all is something so scandalous it could destroy their perfect little lives.

And someone named "A" is threatening to do just that.

At first they thought A was Alison, their friend who vanished three years ago . . . but then Alison turned up dead. So could A be Melissa, Spencer's ultracompetitive sister? Or Maya, who wants Emily all to herself? What about Toby, the mysterious guy who left town right after Alison went missing?
One thing's for certain: A's got the dirt to bury them all alive, and with every crumpled note, wicked IM, and vindictive text message A sends, the girls get a little closer to losing it all.