"It's Monday! What Are You Reading?" is a weekly meme brought to you by
BookJourney
. Each Monday, you get to share what you're currently reading and what you plan on reading this week with the rest of the book blogosphere. When you've finished your post, go to BookJourney, and add your post's link to the link up tool. Readers of YA and teachers can also share their link on the link up tool on
Teach Mentor Texts
.
Now I know in my last few "It's Monday" posts, I've planned on reading quite a few books, but I am having such a hard time getting through one that I told you about a while ago. It's depressing, actually. It never takes me this long to read a book. So... I'm still reading it, but I really hope to finish it today because I've got an ARC on it's way!
What I'm Reading This Week: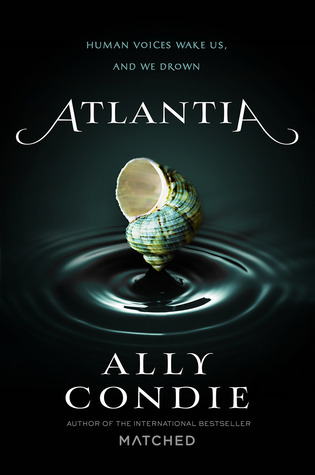 Title: Atlantia
Author: Ally Condie
Synopsis:
Can you hear Atlantia breathing?

For as long as she can remember, Rio has dreamt of the sand and sky Above—of life beyond her underwater city of Atlantia. But in a single moment, all her plans for the future are thwarted when her twin sister, Bay, makes an unexpected decision, stranding Rio Below. Alone, ripped away from the last person who knew Rio's true self—and the powerful siren voice she has long hidden—she has nothing left to lose.

Guided by a dangerous and unlikely mentor, Rio formulates a plan that leads to increasingly treacherous questions about her mother's death, her own destiny, and the complex system constructed to govern the divide between land and sea. Her life and her city depend on Rio to listen to the voices of the past and to speak long-hidden truths.
Title: Positively Beautiful
Author: Wendy Mills
Synopsis:
16-year-old Erin is a smart if slightly dorky teenager, her life taken up with her best friend Trina, her major crush on smoky-eyed, unattainable Michael, and fending off Faith, the vision of perfection who's somehow always had the knife in for Erin. Her dad, a pilot, died when she was very young, but Erin and her mom are just fine on their own.

Then everything changes forever one day after school when Erin's mom announces she has breast cancer. And there's even worse news to come. Horrified, Erin discovers that her grandmother's death from cancer is almost certainly linked, the common denominator a rare gene mutation that makes cancer almost inevitable. And if two generations of women in the family had this mutation, what does that mean for Erin? The chances she's inherited it are frighteningly high. Would it be better to know now and have major preemptive surgery or spend as much life as she has left in blissful ignorance?

As Erin grapples with her terrible dilemma, her life starts to spiral downwards, alleviated only by the flying lessons she starts taking with grumpy Stew and his little yellow plane, Tweetie Bird. Up in the sky, following in her dad's footsteps, Erin finds freedom chasing the horizon. Down on the ground it's a different story, and facing betrayal from Trina, humiliation from Faith, and a world of disappointment with Michael, Erin knows she must discover the truth about herself. Sure enough, she's positive for the gene that's slowly killing her mom.

Suddenly, Erin's life has turned into a nightmare, and the only person she can truly talk to is a girl called Ashley who she meets online. But when, in a moment of madness, Erin flies away with Tweetie Pie to find her new friend, she finds herself on a journey that will take her through not only shock and despair - but ultimately to a new understanding of the true meaning of beauty, meaning, and love.
So that's what I'm reading this week. I'd like to thank On the Same Page ARC tours for the opportunity to read
Positively Beautiful
.
What are you reading this week? Feel free to let me know in the comments, and as always, feel free to leave a link to your "It's Monday" post so I can check them out.
Happy reading!