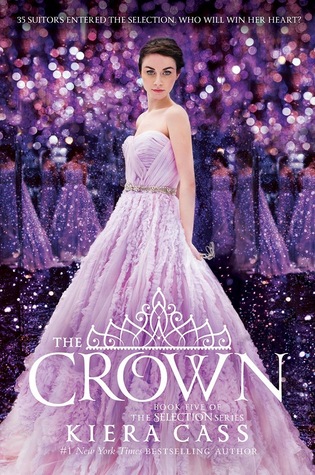 Title: The Crown
Series: The Selection
Publisher: HarperTeen
Publication Date: May 3, 2016
Source: Purchased
When Eadlyn became the first princess of Illéa to hold her own Selection, she didn't think she would fall in love with any of her thirty-five suitors. She spent the first few weeks of the competition counting down the days until she could send them all home. But as events at the palace force Eadlyn even further into the spotlight, she realizes that she might not be content remaining alone.

Eadlyn still isn't sure she'll find the fairytale ending her parents did twenty years ago. But sometimes the heart has a way of surprising you…and soon Eadlyn must make a choice that feels more impossible—and more important—than she ever imagined.
My Review
Kiera Cass takes readers back to the disturbingly enchanted and glittering world of Illéa in the fifth and final book of The Selection series, The Heir. You all know this by now, but I've been there for these books from the very beginning, preordering and waiting for The Selection to show up on my doorstep and then waiting patiently over the next four years for more books. Unfortunatley, I didn't love The Crown, and it pains me to say that I wish that there was more to the book so that I didn't feel so sad that the series is finally over.
After the sombering events at the end of The Heir, Princess Eadlyn Schreave has the weight of the world, or at least Illéa, on her shoulders. She has a lot more responsibility within the palace, and on top of that, she still has six young men in the palace, waiting to see if she'll choose one of them to be her husband. Throughout her Selection, she's been cautious to give her heart away, but she now faces the time when she will need to make a choice not only for her country, but for her own happiness.
Most of the characters from The Heir are back, and if they are not physically present in the novel, Eadlyn refers back to them, especially when analyzing the decisions that she's made thus far in her Selection. I'll admit that while I had my favorites, and while I was pulling for one character in particular, I was glad to see Eadlyn get to know everyone a little bit better in this book. There were some shocking, but great revelations about some of the characters, but overall, it was refreshing to finally feel like I was getting to know the men in Eadlyn's life. I was also happy to see that Ms. Cass paid a lot of attention to members of Eadlyn's inner circle, like her maids, ladies, in waiting, and especially Josie. I think they all softened Eadlyn a little bit, and it was nice to see how they were able to change her.
Eadlyn, on the other hand, still remains very true to herself throughout the novel, and I think any strong woman will appreciate that about her. She knows what she wants, but she also realizes that it's difficult to get exactly what you want when you're destined to be queen. I think she made a lot of great sacrifices in this novel, and I still think she's a good role model for younger female readers.
Obviously at this point, I'm a fan of Kiera Cass' writing. There's just something so beautiful about the way that she gets into the minds of her characters and weaves in in with the stories that they have to tell. Eadlyn is no exception to this, and I found myself getting lost in her words, often reading for so long that I lost track of time. There were many, and I mean, many memorable quotes from The Crown that readers will be able to relate to and adore for years and years to come.
One thing about Kiera's story plotting that seems to irk me is the predictability of it all. I was hoping that because The Crown was the final book in the series that Ms. Cass would throw us readers a curve ball, but alas, she did not. The pacing of the plot felt extremely rushed, and I understood why the book looked so short when I first picked it up. Most everything that happened by the end of the novel was something that I thought would happen way back in The Heir. While the ending was satisfying, especially with all of the politics, I just wish it had a little more spice to it to really make this series, and Eadlyn's storyline, a lot more memorable.
Overall, The Crown, is a good ending to a series that so many readers have come to cherish over the past five years. I wish the novel would have been a bit longer just so things didn't feel like they were happening so quickly, but taking the events of the plot to mind, it makes sense. Anyone who has read The Heir will want to check this book out just to see how it ends for Eadlyn and company.
Kiera Cass is the #1 New York Times bestselling author of The Selection series and The Siren. She is a graduate of Radford University and currently lives in Christiansburg, Virginia with her family. You can learn more about Kiera's books and her love of cake online.
Website | Twitter | Facebook | Tumblr | Instagram