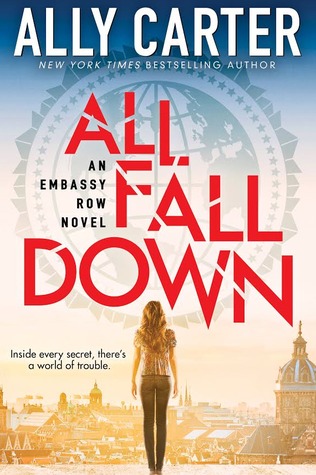 Title: All Fall Down
Series: Embassy Row
Author: Ally Carter
Publisher: Scholastic Press
Publication Date: January 27, 2014
Source: ARC from Scholastic Press
Grace Blakely is absolutely certain of three things:

1. She is not crazy

2. Her mother was murdered

3. Someday she is going to find the killer and make him pay




As certain as Grace is about these facts, nobody else believes her - so there's no one she can completely trust. Not her grandfather, a powerful ambassador. Not her new friends, who all live on Embassy Row. Not Alexei, the Russian boy next door, who is keeping an eye on Grace for reasons she neither likes nor understands.

Everybody wants Grace to put on a pretty dress and a pretty smile, blocking out all her unpretty thoughts. But they can't control Grace - no more than Grace can control what she knows or what she needs to do. Her past has come back to haunt her . . . and if she doesn't stop it, Grace isn't the only one who will get hurt. Because on Embassy Row, the countries of the world stand like dominoes, and one wrong move can make them all fall down.
My Review
All Fall Down
, the first book in the
Embassy Row
series
by Ally Carter, is an excellent series starter. The novel reads rather quickly, but it has a very intriguing plot that I left me impressed and ready for more! This will be one of those books that you'll want to stay up until four in the morning just to read it.
What I really love about this book is how flawlessly Ms. Carter ties together so many different elements. Ally Carter creates a world of grace, beauty, and elegance in Adria but it's also a world full of diplomacy, tension, and power. While I was reading, I was able to tell that there is some unrest in Adria between many of the many countries on Embassy Row, but I was also glad that it did not have a political feel to it.
The characters in
All Fall Down
are ones that teens will enjoy reading about.
Grace is sixteen, but because of something in her past, she is a bit immature. There were certain points where I could really tell that she had a hard time growing up because it seems like she is thirteen which is the age she was when her mother was murdered. She's a bit of a tomboy, and I love that Carter included some of her not so graceful moments.
Grace has a new group of friends waiting for her when she gets to Embassy Row, and they include Noah, Megan, and Rosie. I was able to tell that they all really cared for Grace, but I was hoping to learn a little more about them, especially Megan and Rosie. I'll be looking forward to seeing how they develop in book two. Then there's Alexei, the Russian who lives next door to Grace. He was also Grace's brother's best friend when they were younger. He's a bit mysterious, and I enjoyed the moments that he shared with Grace.
I really like Carter's writing style. It's easy to follow and entertaining. There were many humorous moments in this book, but there were also some serious ones, and her words reflect those types of moments. The book has a very nice flow, and readers will definitely be able to see a mental image of Adria in their minds.
I already know fans of Ally Carter cannot wait to get their hands on this book, but I also think this would be a great book for readers who are graduating from middle grade novels and moving on to young adult literature.
About the Author

Ally Carter is a writer living and working in the Midwest. She loved school so much she kept going...and going...and going...until finally she had to graduate. Now she has degrees from Oklahoma State University and Cornell University and a house and a job and other very grown-up things.

Her life is either very ordinary or the best deep-cover legend ever. She'd tell you more, but...well...you know...