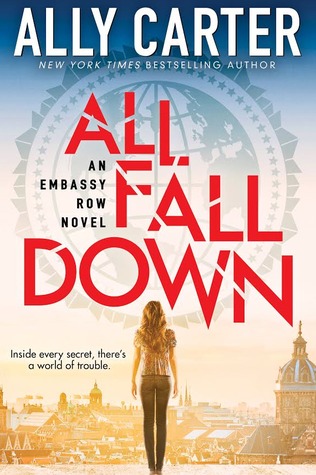 This post is more of a personal rant, but also a warning to other bloggers and readers who order books online.
If you ordered a signed copy of All Fall Down from Target, please read this because I do offer some advice at the end of the post.
Today, I received my copy of
All Fall Down
by Ally Carter in the mail. If you read my blog regularly, you will probably already know from my
review
that I received an ARC from the publisher (Scholastic), and really enjoyed the book.
When I saw Ally Carter take to Twitter and her website to tell readers about signed copies being available from certain retailers, I jumped on the opportunity because A. I loved signed copies of books and B. I enjoyed the book, so it would be a nice addition to my personal library.
My first attempt at getting a signed copy was from Barnes & Noble. For some reason, my account wasn't working (it wouldn't let me enter my credit card information), so I made another B&N online account to order it. The exact same thing happened again, and then they ran out of signed copies.
So I went to Target's website and ordered one. Apparently I did this really late at night and a few days after the attempt from ordering from Barnes & Noble. When I got my shipping notification, I was excited! I couldn't wait to get the signed copy in my hands. The book showed up at my door today. It was not signed, and I was extremely disappointed.
Ally Carter reached out to me on Twitter and said that it was happening to a lot of people who ordered the book and that Scholastic was working on a solution. I decided to call Target. I thought it was my right to express my disappointment as a paying customer. The operator on the phone told me that the stores were carrying signed copies and that I would be able to exchange it.
So what did I do? I hopped in my car and drove to the closest (within a five mile radius) of my three local Targets. The woman who helped me was extremely kind, and got on her walkie talkie with someone in electronics. He told her that they did not have signed copies, so I returned the book. Before I left, I decided to go back to the books and electronics to see for myself, and guess what! Two signed copies were sitting there. I left the store out of spite. I wasn't waiting in line again to pay for something when I was lied to.
If You Didn't Get Your Signed Copy of All Fall Down from Target:
You can take your book in for an exchange to any Target location, but I urge you to ask to go back with an employee to see for yourself. I didn't because I didn't think I could, and now I regret it.
You can return it for a full refund. That's what I ended up doing.
Check with your local indie. Call your local independent bookstore to see if they have it. If they do, you can return it and buy from your indie. This is what I'm going to end up doing.