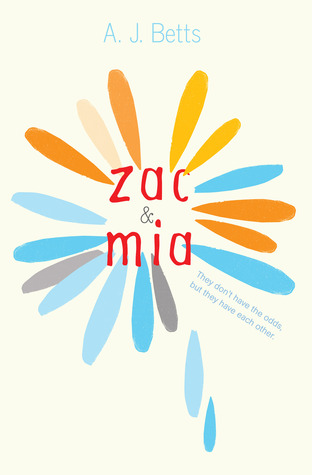 Title: Zac & Mia
Author: A.J. Betts
Publisher: HMH Books for Young Readers
Publication Date: September 2, 2014

Source: eARC from publisher
Rating: ☆☆☆
Synopsis:
The Fault in Our Stars meets Eleanor & Park in this tough and tender young adult novel that's a lot about love (and a little about cancer).

Winner of the 2012 Australian Text Prize

"When I was little I believed in Jesus and Santa, spontaneous combustion, and the Loch Ness monster. Now I believe in science, statistics, and antibiotics." So says seventeen-year-old Zac Meier during a long, grueling leukemia treatment in Perth, Australia. A loud blast of Lady Gaga alerts him to the presence of Mia, the angry, not-at-all-stoic cancer patient in the room next door. Once released, the two near-strangers can't forget each other, even as they desperately try to resume normal lives. The story of their mysterious connection drives this unflinchingly tough, tender novel told in two voices.
My Review
Okay... I should have read this one months ago, but trying to read ebooks on my computer was really straining my eyes. I'm glad that I finally got to it because it was somewhat enjoyable, and unique.
Zac & Mia by A.J. Betts is the story of two very different Australian teenagers who have one thing in common - they have cancer. In a world where there are so many YA books about cancer being published, you want just one that you read to stand out. Unfortunately, there isn't really anything too striking about Zac & Mia.
The writing is okay, but I expected a little something more from an English teacher. There were quite a few times that I had to go back and re-read passages because the wording was awkward. The narration was weird. It starts off with Zac narrating, and I noticed his name, so I thought maybe there would be alternating chapters, but that doesn't happen until part two where Zac and Mia alternate chapters. That whole part is a little shaky. Mia starts solely narrating in part three, and it gets a little better again. I just thought it was a strange way to break up a book, but it does reflect how the two are living and the events in their lives.
I will note that I enjoyed that the American edition of this book is still very true to the author's Australian roots. There are references to foods and other Australian things in the book that I had to look up. It made the book a little more enjoyable. I think the book's setting might have been my favorite part because I've never read a book set in Australia before.
The book had enough going for it that I kept reading, but there were a few moments when I really wanted to put this book away for a while, but I wanted to find out more about Zac and Mia. Eventually I started to enjoy it a little more, and I read a good portion of it in just a few hours. I wish there was more. It just felt unfinished like the author was setting something up for a sequel.
In accordance to FTC guidelines, I must state that I received a free galley of this book from the publisher through NetGalley.