Title: Vivian Apple at the End of the World
Series: Vivian Apple
Author: Katie Coyle
Publisher: HMH Books for Young Readers
Publication Date: January 6, 2015
(Originally Published in the UK under the title Vivian Versus the Apocalypse by Hot Key Books)
Source: HMH Books for Young Readers

Seventeen-year-old Vivian Apple never believed in the evangelical Church of America, unlike her recently devout parents. But when Vivian returns home the night after the supposed "Rapture," all that's left of her parents are two holes in the roof. Suddenly, she doesn't know who or what to believe.

With her best friend Harp and a mysterious ally, Peter, Vivian embarks on a desperate cross-country roadtrip through a paranoid and panic-stricken America to find answers. Because at the end of the world, Vivan Apple isn't looking for a savior. She's looking for the truth.

A chillingly real young adult novel that will leave readers questioning the line between fact and fiction.
My Review
Vivian Apple at the End of the World is a new kind of YA novel. I've never read a book like it, and quite honestly, I don't expect to read anything like it or its sequels again. As a young woman, I applaud Ms. Coyle for creating this because there were certain things in this book that I read that made me appreciate how lucky I am to live in a free country where I have my rights and my freedom.


Coyle creates a new kind of America in this novel in which many of the citizens of the United States are now Believers of a new cult-like religion called The Church of America. I don't want to spoil anything for interested readers, but it's fascinating to see how much effort Coyle put into the creation of this fictional church. You can tell that she definitely did her research. There are pieces of information about the church scattered throughout the book to help readers understand its creation, but let me warn you... it's a freaking weird religion. Readers will also come across excerpts and quotes from The Book of Frick, the religious text for the Believers.
If you're afraid of reading books with references to religion, don't be afraid to read this book. I'm not a fan of religious fiction, and I can tell you that this does not read like it. It's actually more like a rebellion against the new norm.
As far as characters go, Vivian starts off as a normal American teenager. Her new best friend is her next door neighbor, Harp, who is the opposite of Vivian. Also, these two weren't even friends before all of the Church of America stuff started, so it was interesting to learn about how they become friends. As readers get through more of the book, they will notice changes from both girls. There's also their new friend, Peter. He's just as he's described - mysterious, but readers will also learn more about him as well.
There are some bang-up moments in this book. There's a real and true friendship that faces challenges along the way. There's a little bit of romance. There's a cross-country road trip at the supposed end of the world. There are some bad ass moments that will make readers triumph with Viv and her friends. Oh... and there is some diversity.

I did notice a few flaws in the book like the first hurricane of the season being called Hurricane Ruth, instead of starting with an A name. There were also some events that I questioned, but by the time I finished this book, I was hooked.
Vivian Apple at the End of the World will not only entertain, but it will teach readers about tolerance at a time when its needed now more than ever. Emotions will be tested. Readers will laugh, swoon, cry, and feel anger. This is a book you won't want to miss.
In accordance to FTC guidelines, I must state that I received a galley free copy of this book in exchange for an honest review.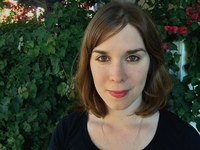 About the Author

Katie Coyle grew up in a small suburban town in New Jersey. The first story she ever wrote was about a girl with a pet dolphin - eventually the dolphin turned into a dog, and the third-person narration unceremoniously switched over to first-person. The story was never finished.

However, since then she has spent countless hours dreaming up tales about the weird and wonderful things that happen to teenage girls. She has an MFA from the University of Pittsburgh, and spends her free time buying books she doesn't need and crying at science-fiction television shows.