Wow! I cannot fathom that 2014 is already over! I know it seems like a cliche, but it really seems like 2014 only started yesterday. Well maybe not yesterday, but it doesn't really feel like a year has already gone by.
This year was a really great reading year for me, and I read all sorts of different books!
When I worked at the preschool, I read a lot of children's books to the kiddos, and that was a blast just to see their faces light up because they enjoy a story so much. Also... I'm pretty awesome at doing voices for them. I also had a lot of time on weekends and over the summer to just relax and read. I read a bunch of different and new-to-me authors this year, giving me more variety to my reading tastes and establishing a new favorite genre.
I know my blog hasn't been around for a while, but that doesn't mean that I wasn't reading and reviewing books before I created it. In 2014, I read over 130 books! Before I start things for the new year, I thought I'd share my favorite 2014 releases and other books that I read this year.
Favorite 2014 Releases
Zodiac by Romina Russell*
Damsel Distressed by Kelsy Macke*
Isla and the Happily Ever After by Stephanie Perkins*
Cress by Marissa Meyer *
Panic by Lauren Oliver
My True Love Gave to Me edited by Stephanie Perkins
We Were Liars by E. Lockhart*
The One by Kiera Cass (May 2014)
The Queen of the Tearling by Erika Johansen*
Landline by Rainbow Rowell*
To All the Boys I've Loved Before by Jenny Han*

Love Letters to the Dead

by

Ava Dellaira*

*Denotes a new-to-me author this year.
My Favorite Book of 2014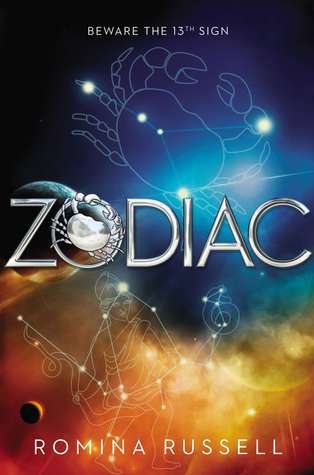 So... it all comes down to this. I have to pick one favorite for the year, and for me, there is really no questioning my choice because my favorite book of the year is a stunning debut.
My favorite book of the year definitely has to be Zodiac by Romina Russell. It was released on December 9.
I was lucky enough to be chosen as a Goodreads giveaway winner for this book, and I absolutely loved it. I loved the concept of space travel in a galaxy based on the signs of the Zodiac, and the world building was spectacular.
Seriously... if you haven't read this book yet, I urge you to go to your local bookstore and grab a copy! It's amazing! You can check out my full review here.
Favorite Back Listed Books I Read This Year
Cinder by Marissa Meyer
Eleanor & Park by Rainbow Rowell
Burn for Burn by Jenny Han and Siobhan Vivan
The Silver Linings Playbook by Matthew Quick
Anna and the French Kiss by Stephanie Perkins
Me and Earl and the Dying Girl by Jesse Andrews
The 5th Wave by Rick Yancey
How to Love by Katie Cutugno
Wonder by R.J. Palacio