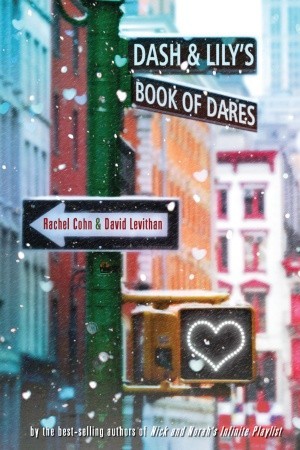 Title: Dash and Lily's Book of Dares
Authors: Rachel Cohn and David Levithan
Format: Paperback
Publisher: Ember
Publication Date: October 11, 2011 (Originally published on October 26, 2010)

Rating: ☆☆☆
Synopsis:
"I've left some clues for you.
If you want them, turn the page.
If you don't, put the book back on the shelf, please."

So begins the latest whirlwind romance from the bestselling authors of Nick & Norah's Infinite Playlist. Lily has left a red notebook full of challenges on a favorite bookstore shelf, waiting for just the right guy to come along and accept its dares. But is Dash that right guy? Or are Dash and Lily only destined to trade dares, dreams, and desires in the notebook they pass back and forth at locations across New York? Could their in-person selves possibly connect as well as their notebook versions? Or will they be a cosmic mismatch of disastrous proportions?
My Review:
I've seen many readers and reviewers gush about Dash & Lily's Book of Dares, but I really don't see what all the fuss is about. For me, this was just an okay read. There were some good things about the book, but there were a lot of details that I questioned.

The plot is something new, refreshing, and unique. I've never read a book about two people, let alone strangers, corresponding through a notebook. Cohn and Levithan are definitely masters at originality for coming up with that idea. I did find it to be a bit unbelievable because the book takes place in New York City. I could see someone picking up the notebook to read it or investigate it, but I can't imagine it going any further than that.

Now about that "whirlwind romance." The romance does not develop until the last few chapters of the book. The seeds are definitely planted early, but the notes that Dash and Lily exchange seem more platonic than anything. I did not expect to see a romantic relationship develop between these two. A friendship? Yes, but not a romance. There are also some references to the other love interests and potential love interests in Dash and Lily's lives. The Dash/Sofia relationship/friendship makes sense, but the Lily and Edgar moments seem out of place.

The characters are okay. At times, I found myself thinking hard and questioning the Dash/Lily love connection. Dash just seems so much older and more mature compared to Lily, so I think that's another reason that I didn't buy into the plot. Lily annoyed me so much while I was reading. At times, she acts like a spoiled twelve year old instead of the teenager that she is. Out of all of the characters in the book, I'd have to say that I like Boomer the most. He brings a little bit more humor to the book, and I could imagine running into someone like him on the street.

My favorite moment in the book is the second chance encounter between Dash and Lily. I literally laughed out loud when it happened, and I kind of hope this book becomes a movie because I can see that being a great movie scene.

I felt like both authors were trying too hard to make their book stand out and become an elite book. Don't get me wrong, I love references to the classics and other great books, but it was too much. As an English teacher, I can honestly tell you that some of the references are going to fly right over a lot of heads. If it gets teens reading classics, great, but I can just see so many of them pushing through it and never bothering to look up the books and poems that Cohn and Levithan refer to in this novel.

The writing also bothered me. There were too many run-on sentences by both Cohn and Levithan. I don't know if they were trying to be ironic because they poke fun at people who get annoyed with run-on sentences, but it really bothered me. I found that I had to re-read so many of them just to understand what was going on in the story.

Dash & Lily's Book of Dares is a good book, but it's not a great book. I probably would have liked it a little better if some things were changed, but it's a nice book to pick up and read if you're trying to find the Christmas spirit.