2014 is almost over, so it's time to reflect on this past year. There are a lot of end of the year posts and surveys going around, and believe me, I have wanted to do them all. It's just not possible because there isn't enough time left. This survey really stuck out to me because of its uniqueness and how easy it is to fill out.
This survey is brought to you by Andi of
Andi's ABCs
and Brittany of
The Book Addict's Guide
. So what is this exactly? The survey is a list of all of the random things about your reading habits this year. You know... the fun stuff about reading... the stuff you don't normally think about like page numbers and colors.
Now I know I only started blogging in July, so anything related to blogging will be pulled from that short span of time between then and now. Anything else about reading in general will come from my Goodreads profile and reading challenge.
1. Book with the highest rating on Goodreads:
I gave 39 books a five star rating on Goodreads this year, but a lot of them were children's books from when I worked at the preschool.
2. Book with the lowest rating on Goodreads:
I gave 11 books a one star rating on Goodreads this year. I'll be honest... a few of them were books that I didn't finish.
3. Book read furthest away from home (vacation reads?):
I read The 5th Wave by Rick Yancey when I went to camp.
4. Book that took you the longest to read:
Atlantia
by Ally Condie. It took me almost a month to get through it.
5. Book that you personally connected with the most:
Damsel Distressed
by Kelsy Macke.
6. Book that made you love the villain:
Cress
by Marissa Meyer. I really want to know more about Queen Levana.
7. Book you said you'd come back to but still haven't picked up again:
The American Heiress
by Daisy Goodwin. I started it last year, and promised myself to give it another chance this year, but I ended up selling it. It was too boring to want to read again.
8. Book you read waaaay before its publication date:
Positively Beautiful
by Wendy Mills. I read it in November 2014, and it won't be published until March 2015.
9. Book you read on your birthday:
Mister Teacher Person
by J.M. Varner
10. Book with a character who shares your name:
Erin Bailey from Positively Beautiful and I share a first name. Come to think of it, I think she's the only Erin I've ever come across while reading. If you know of any others, let me know. Erins aren't very common.
11. Book you weren't entirely truthful about when rating (Fluff up any ratings? Rated even though you didn't finish?:
I rate all my DNFs as a one star book if I get through about a quarter of the book just because I did take the time to read that much. I did give Perfectly Good White Boy
two stars and I still don't know why.
12. Book you read in 2014 but already want to re-read:
Zodiac
by Romina Russell. It's so good!
13. Book you borrowed from a friend a long time ago and still have?:
Forever
by Judy Bloom. I think my friend forgot I borrowed it, but it's okay because she sold a copy of The Last Song that she borrowed from me.
14. Book by a foreign author/originally published in another country:
Vivian Apple at the End of the World
by Katie Coyle. It was originally published in the UK, but will be released on January 6 in the States.
15. Book you which you could go back and read for the first time again:
A 2014 read of mine that I'd want to read for the first time again would be Anna and the French Kiss by Stephanie Perkins. If it could be from any other year, it would have to be the Harry Potter books.
16. Most books read by one author this year:
Well I read a bunch of Eric Carle books at the preschool, but I read four by both Ally Condie and Stephanie Perkins.
1. Happiest & saddest:
The happiest book I read is The One by Kiera Cass. The saddest book would have to be Positively Beautiful by Wendy Mills because I balled my eyes out.
2. Longest & shortest:
The longest book I read this year is Cress by Marissa Meyer. I did read a bunch of children's books this year, but the shortest non-children's book I read is Fantastic Beasts and Where to Find Them by J.K. Rowling.
3. Best & worst:
The best book I read this year is Zodiac by Romina Russell. The worst book I read this year is Mortal Danger by Ann Aguirre.
4. First & last reads of 2014:
The first book I read in 2014 was The Catcher in the Rye (fitting, right?) and the last book I read (am reading) in 2014 is Ashes to Ashes by Jenny Han and Siobhan Vivian.
5. First & last books on your bookcase (1st book on the top left and last book on the bottom right):
Yeah... I don't even know. My bookcases are a mess right now because I don't have enough room. Harry Potter and the Deathly Hallows is the last one on my shelf next to my bed so it's always near me.
6. The most disappointing & the biggest pleasant surprise:
Can this be about book shopping? My most pleasant surprise was finding Book Outlet, but the most disappointing surprise was how bad their customer service has been to me this year. I won't be ordering from them again.
7. Bandwagon/fandom you joined & one you abandoned:
I jumped on quite a few bandwagons this year - The Lunar Chronicles, Anna and the French Kiss, and The 5th Wave. I also jumped on the Rainbow Rowell fandom. I didn't really jump off any, but I was close to abandoning The 5th Wave's fandom after I read The Infinite Sea.
8. Most lenient & harshest ratings:
My harshest rating was probably Mortal Danger by Ann Aguirre. I ripped that book to shreds. My most lenient rating was Atlantia by Ally Condie. I gave it three stars and I really feel like I should have given it like one and a half stars.
9. Most hyped & furthest under the radar that you read:
The most hyped books I read this year were We Were Liars by E. Lockhart, The One by Kiera Cass, and Cress by Marissa Meyer. The most under the radar book I read this year would be Mister Teacher Person by J.M. Varner.
1. Book you read that is red:
The Catcher in the Rye by J.D. Salinger
2. Book you read that starts with M: My True Love Gave to Me: Twelve Holiday Stories
3. Book you read that you may have hugged when you finished it: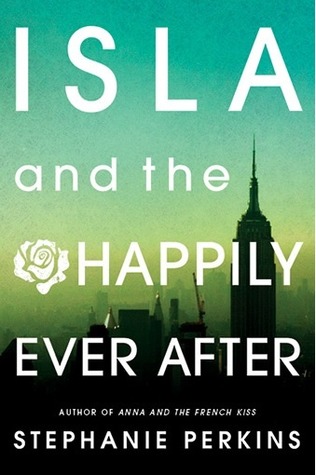 Isla and the Happily Ever After by Stephanie Perkins
4. Book you read that you may have wanted to throw across a room: Mortal Danger by Ann Aguirre, and the whole Matched trilogy by Ally Condie. Ummmm... I may have actually thrown all of these books across the room. Shhhh!
5. Book that has the letters Q, X, or Z in the title (bonus for one of the words in the title beginning with those!):
Zodiac by Romina Russell
6. Book that suffered some damage this year (food? water? ripped pages/cover? Ouch!):
So my cuticles get really dry, and The Selection Stories by Kiera Cass now has some blood on a few of the pages.
7. Food you craved while/after reading a certain book:
I craved Buffalo chicken salad while reading quite a few books this year. Oh, and I had the strange urge to try a macaroon after reading Anna and the French Kiss and Isla and the Happily Ever After.
8. First book you read in 2015:
9. Number of books read that end with a 6 in the page count:
10
Number of posts in 2014: 170, but I might post a few more before 2014 officially ends.
Number of reviews posted this year: I've posted 60 reviews on my blog.
First post of 2014: This one also goes down as my first post ever, and it was a book review for If I Stay by Gayle Forman.
First review of 2014: My review for If I Stay is my first review for the blog, but I did review on Goodreads before I even made a book blog.
Last post of 2014: I have a wrap-up post that is about my favorite books of the year.
Last review of 2014: It might be for Ashes to Ashes by Jenny Han and Siobhan Vivian. I plan on finishing it before the year ends.
Least coherent review: I think all of my reviews are pretty coherent, so that one would be Fire with Fire by Jenny Han and Siobhan Vivian.
Review with the most views (regardless of post date): Panic by Lauren Oliver
Post with the most comments: It's a post I made to apologize for being sick. I feel silly now. :(
Post you wish you could re-write: I wish I could re-write, or at least reformat, all of my earlier posts.
Most popular post this year (that was posted in 2014): My review for Panic by Lauren Oliver