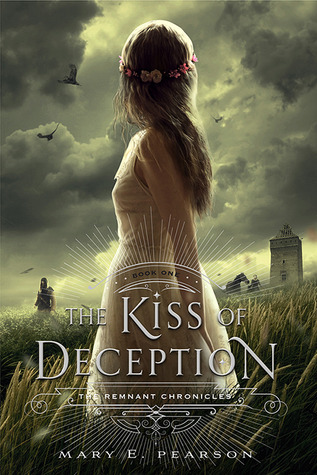 Title: The Kiss of Deception (The Remnant Chronicles #1)
Author: Mary E. Pearson
Publisher: Henry Holt & Co. (BYR)
Publication Date: July 8, 2014
Format: Hardcover, 489 pages
Source: Purchased from
Amazon
Rating: ☆☆☆
Synopsis:
A princess must find her place in a reborn world.

She flees on her wedding day.

She steals ancient documents from the Chancellor's secret collection.

She is pursued by bounty hunters sent by her own father.

She is Princess Lia, seventeen, First Daughter of the House of Morrighan.

The Kingdom of Morrighan is steeped in tradition and the stories of a bygone world, but some traditions Lia can't abide. Like having to marry someone she's never met to secure a political alliance.

Fed up and ready for a new life, Lia flees to a distant village on the morning of her wedding. She settles in among the common folk, intrigued when two mysterious and handsome strangers arrive—and unaware that one is the jilted prince and the other an assassin sent to kill her. Deceptions swirl and Lia finds herself on the brink of unlocking perilous secrets—secrets that may unravel her world—even as she feels herself falling in love.
My Review
The Kiss of Deception by Mary E. Pearson is a charming and beautifully written YA fantasy novel about a young princess named Lia who decides to run away from the only home she's ever known to avoid marrying a prince from a neighboring kingdom. Seems interesting, right? Of course.

Those of you who have been reading my reviews and getting to know me have probably realized by now that I don't exactly read a lot of fantasy. It's not that I don't like the genre - I have read and loved so many fantasy novels - I sometimes get frustrated with the lack of world-building that some authors forget to include. That is not the case with The Kiss of Deception. Pearson's imagery paints the picture of a troubled world that still has a lot of growing up to do. I love the way that Pearson does this. She gives away little details of the throughout the novel, and the reader is still interested in learning what she has purposefully omitted by the end of the book.

There is a vast array of strong and curious characters in this book. First of all, there's the runaway princess, Lia. She's an independent young lady who desperately wants to make her own decisions in life. She's also got a smart mouth on her and it certainly makes for a fair share of people who dislike her. To be honest, I really liked Lia. When I first picked up the book, I thought she might not be as fierce as she is, but I'm certainly a fan of how Pearson characterizes her. Other main characters in the book are Pauline, Lia's handmaid, and two young men named Rafe and Kaden. Pauline certainly finds herself in a lot of trouble, but she's a good and loyal friend to Lia. Rafe and Kaden are mysterious, but each in their own ways. I kept flip-flopping with these two characters, and by the end of the book, I had no clue what to feel about either, even after figuring out their secrets. Pearson also includes a plethora of minor characters who also add a great deal to the story.

I was hoping for more action in this book than there actually was, and I'll admit that I was a little bored for about half of it. I just wanted something to happen, but there were just a lot of normal scenes - Lia and Pauline traveling and working, Lia and Pauline meeting new people, and the introduction of new characters.

However, the writing makes up for the lack of action and plot movement. I absolutely love Pearson's writing style. She drives things forward so eloquently, even if she's just writing about Lia moving from the kitchen of the bar to the dining room. At the end of the novel, I was ready for more, and I'll definitely be reading the sequel, The Heart of Betrayal.