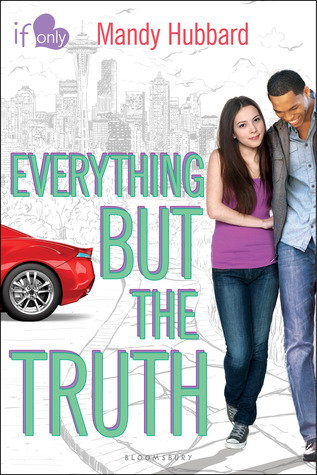 Title: Everything But the Truth (If Only . . . #6)
Series: If Only . . .
Author: Mandy Hubbard
Publisher: Bloomsbury USA Childrens
Publication Date: November 17, 2015
Source: ARC from Bloomsbury
If Only . . . she wasn't pretending to be someone else! The If Only romance line continues in this fun rags-to-riches romance.Holly Mathews' mom is the new manager of a ritzy retirement home, and they just moved in. But having super-rich retirees as her only neighbors isn't a total bust, because the gorgeous, notorious Malik Buchannan is the grandson of a resident. Just one problem: when they meet, Malik assumes Holly is there to visit her own rich relative. She doesn't correct him, and it probably doesn't matter, because their flirtation could never turn into more than a superficial fling . . . right? But the longer she lives in his privileged world, the deeper Holly falls for Malik, and the harder it is to tell the truth . . . because coming clean might mean losing him.

For anyone who has dreamed of their own Cinderella story, this romance shows that when it comes to true love, the best person to be is yourself!
My Review
Mandy Hubbard is back with her second book in the If Only . . . series. Everything But the Truth is a wonderful and cute addition to the series of standalone romance novels about wanting what you can't have, and I really, really enjoyed reading this title. I'll be honest with you... I haven't read all of the books in the If Only . . . line, but Everything But the Truth is definitely my favorite out of the three books that I have read.
Everything But the Truth
follows Holly Mathews, a girl of modest upbringing, and Malik
Buchannan, grandson of the third richest man in America. These two meet by mistake, but sparks fly quickly as the two fall for one another. The only problem? Malik thinks that Holly is actually Lucy, the granddaughter of one of his grandfather's new neighbors at a swanky retirement home. Will Holly ever come clean to Malik? Or is this relationship doomed from the start?
What I really liked about this book in the If Only . . . series is that Holly gets herself into trouble in her relationship by lying. It's not like some of the other books in the If Only . . . series that have a forbidden love feel.
I'm not one to condone lies, but for some reason, the little fib that Holly took just resonated with me. It wasn't just a book about falling in love with someone you can't have; it's a book about lying to get something you want. Holly has to deal with her lies and take ownership for it. I really felt like there's just a built in lesson in this book that will teach teenagers that one little lie can really mess everything up!
The characters in Everything But the Truth aren't the most developed characters that I've read about, but I enjoyed learning about them. Holly is a breath of fresh air when compared to other contemporary YA leads because she just has a different taste in things. She likes antiques. She's obsessed with art. She's really just a cool and unique character. Malik is also different. Everybody thinks he's just a Hollywood hot shot, but he really just wants to prove his worth to the world but mostly to his grandfather. It's really fun to see how their differences and similarities complement one another. Oh, and there is an adorable, cranky grandfather in this book, and Charles
Buchannan brings some comic relief to the story.
Now that I've read Everything But the Truth, I'll definitely be picking up Mandy Hubbard's other If Only . . . title, Fool Me Twice. I really like Mandy's writing style, and I can see a lot of other contemporary YA fans enjoying this latest If Only . . . book. So if you're looking for a cute book to curl up with this fall, I recommend picking up Everything But the Truth by Mandy Hubbard. I'd also recommend this book to fans of the movie A Cinderella Story because it does have a similar feel to the Cinderella stories that so many people love.