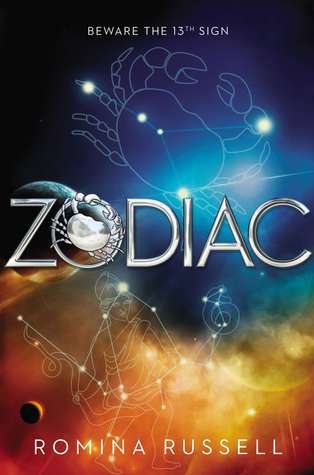 Title: Zodiac
Series: Zodiac
Author: Romina Russell
Publisher: RazorBill
Publication Date: December 9, 2014
Source: Goodreads First Reads Program
At the dawn of time, there were 13 Houses in the Zodiac Galaxy. Now only 12 remain….

Rhoma Grace is a 16-year-old student from House Cancer with an unusual way of reading the stars. While her classmates use measurements to make accurate astrological predictions, Rho can't solve for 'x' to save her life—so instead, she looks up at the night sky and makes up stories.

When a violent blast strikes the moons of Cancer, sending its ocean planet off-kilter and killing thousands of citizens—including its beloved Guardian—Rho is more surprised than anyone when she is named the House's new leader. But, a true Cancerian who loves her home fiercely and will protect her people no matter what, Rho accepts.

Then, when more Houses fall victim to freak weather catastrophes, Rho starts seeing a pattern in the stars. She suspects Ophiuchus—the exiled 13th Guardian of Zodiac legend—has returned to exact his revenge across the Galaxy. Now Rho—along with Hysan Dax, a young envoy from House Libra, and Mathias, her guide and a member of her Royal Guard—must travel through the Zodiac to warn the other Guardians.

But who will believe anything this young novice says? Whom can Rho trust in a universe defined by differences? And how can she convince twelve worlds to unite as one Zodiac?

Embark on a dazzling journey with ZODIAC, the first novel in an epic sci-fi-meets-high-fantasy series set in a galaxy inspired by the astrological signs.
Hey, everyone! I know I posted this review last year, but I'm just so freaking excited for Wandering Star by Romina Russell. My review for that book will be posted tomorrow.
I'm sharing my review for Zodiac again for those of you who have yet to discover this amazing book and series.
(Keep in mind that I wrote this over a year ago, so my writing style has most certainly changed, but my enthusiasm for these books has not!)
My Review
Romina Russell's debut novel, Zodiac, is both out of this world fantastic and stellar. Trust me and the bad puns - you don't want to miss this book! Ms. Russell creates a new kind of world in the science fiction genre that both teens and adults will want to explore for years to come.
In the first book of the proposed trilogy, Russell introduces readers to a futuristic world whose inhabitants are descendants of the people from our world. Parts of this story are revealed in the book, and Russell definitely proves to her readers that she didn't just dream this world up in one night. There are allusions and references to stories that we know, but they've been altered so that they now belong in this futuristic solar system named after the Zodiac.
Ms. Russell's world building is fantastic! In the Zodiac, there are twelve planetary systems, all named after the Zodiac signs that we all know about. The people who reside on each sign all have their own customs and traditions, and it's really neat to see her explore all of these differences. I truly believe that people are going to compare her to some of the top names in YA and children's publishing, like J.K. Rowling, with this book just because of all of the details that she includes. It's so full of new and original vocabulary that describes not only simple devices to all kinds of new planets and moons. She even includes a
glossary
on her website so that readers can look up these terms.
EDIT: In the paperback edition of Zodiac, readers will find a map of this beautiful world.
The characters in Zodiac are also creative and innovative. Even though they represent people from a future society, they still hit close to home because of the emotional pull and tug. Readers can pick up on how far this society is removed from Earth, but still relate to how human they remain. Rho Grace, the novel's protagonist, has faced a lot of adversity in her young life, and it truly shows. Her rise to power is quick, and she faces it the way that any teen would; she's a little scared and confused. She is a unique character that will leave readers wanting more after they finish the last page. Rho is supported by two great groups of supporting characters - her friends from school and the people with whom she journeys through the far reaches of the Zodiac. I loved both of these groups because they bring balance to Rho's life in very different ways. Readers will be wanting to know more about Nishi, Deke, Mathias, and Hysan.
Holy Helios, there's a love triangle in this book, and I loved it! It's not one of those love triangles that's simply thrown into a book to heighten the drama; it's just a girl who truly is conflicted about who she likes more. If you're one of those people who choose not to read books because of the inclusion of love triangles, I'm asking you to give this book a chance. The inclusion of the love triangle in no way takes away from the impressive plot. Instead, it adds a rich layer to it that I think will be very important in future novels.
The many twists and turns in
Zodiac
will leave readers wishing for more. Sometimes you find a book that's predicable, but that is not the case with
Zodiac
! I was shocked and surprised multiple times while reading. It's truly a unique novel, and it's perfectly executed. Readers who like space operas or science fiction will want to get their hands on a copy of
Zodiac
as quickly as they can!
Recommended for fans of J.K. Rowling's
Harry Potter
series and Marissa Meyer's
The Lunar Chronicles
.
Romina Russell is a Los Angeles-based author who originally hails from Buenos
Aires, Argentina. When she's not writing novels, Romina can be found producing movie trailers for indie filmmakers, taking photographs, or daydreaming about buying a new drum set. She is a graduate of Harvard College and a Virgo to the core.