Waiting on Wednesday is a bookish feature created and hosted by Jill from
Breaking the Spine
.
Each week, bloggers and readers shine the spotlight on upcoming book titles that they are waiting on.
You might be able to tell that this is one of my favorite bookish memes. I usually post a Waiting on Wednesday every week because I just think it's really fun to explore upcoming titles and authors.
It's pretty simple to participate in Waiting on Wednesday:
Create your own Waiting on Wednesday post that features an upcoming title (or titles) - I usually only go with one book a week because seeing all the titles can be a bit overwhelming for me.
Be sure to credit Jill somewhere in your post (see how I credited her above?)
Link up to the Linky on Jill's blog so that others can see your post
Waiting On...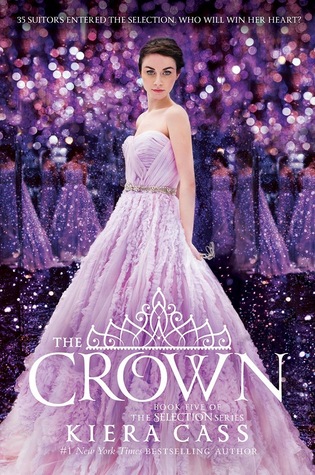 Title: The Crown
Series: The Selection
Author: Kiera Cass
Publisher: HarperTeen
Publication Date: May 3, 2016
Kiera Cass's bestselling Selection series has enchanted readers from the very first page. Now the end of the journey is here, in a wonderfully romantic series finale that will sweep you off your feet.Twenty years have passed since the events of The One, and America and Maxon's daughter is the first princess to hold a Selection of her own. Princess Eadlyn didn't think she would find a real partner among the Selection's thirty-five suitors, let alone true love. But sometimes the heart has a way of surprising you...and now Eadlyn must make a choice that feels more difficult—and more important—than she ever expected.

The Selection series has sold more than 3 million copies and captured the hearts of fans around the world. This swoonworthy final installment is the happily ever after they've all been waiting for.
Why I'm Waiting...
I've been there since The Selection. While I didn't run a book blog all the way back in 2012, I had seen the hype and preordered Kiera's first book in this series. I've read all of the novels and novellas so far, and I'm not going to abandon ship right when we're at the end of this interesting ride.
Besides, I've become really enamored with love for these books, and Princess Eadlyn definitely changed how I viewed this series. I just need to know who she chooses (if she chooses anyone at all...)
What Are You Waiting On...
And now I leave everything up to you! Feel free to let me know if you're excited to the concluding book of The Selection series in the comments. I'm also up for talking about the books in the series in general.
And if you're waiting on another book, feel free to let me know by either telling me in the comments or by leaving a link to your own Waiting on Wednesday post. I'd love to know just what everyone is waiting on this week.
Happy reading!