Waiting on Wednesday is a bookish meme created and hosted by Jill from
Breaking the Spine
.
Each week, bloggers shine the spotlight on upcoming book titles that they are waiting on. This is one of my favorite memes, and you've probably noticed it as a frequent feature on my blog.
It's pretty simple to participate in Waiting on Wednesday:
Create your own Waiting on Wednesday post that features an upcoming title (or titles) - I usually only go with one book a week because seeing all the titles can be a bit overwhelming for me.
Be sure to credit Jill somewhere in your post (see how I credited her above?)
Link up to the Linky on Jill's blog so that others can see your post
What I'm Waiting On...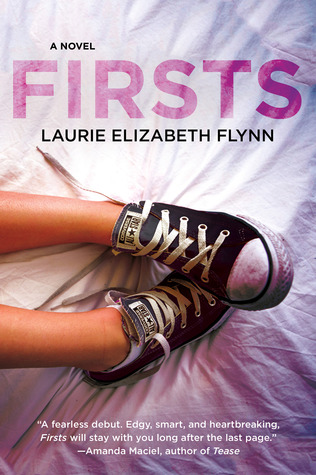 Title: Firsts
Author: Laurie Elizabeth Flynn
Publisher: St. Martin's Griffin
Publication Date: January 5, 2016
Seventeen-year-old Mercedes Ayres has an open-door policy when it comes to her bedroom, but only if the guy fulfills a specific criteria: he has to be a virgin. Mercedes lets the boys get their awkward, fumbling first times over with, and all she asks in return is that they give their girlfriends the perfect first time- the kind Mercedes never had herself.

Keeping what goes on in her bedroom a secret has been easy- so far. Her absentee mother isn't home nearly enough to know about Mercedes' extracurricular activities, and her uber-religious best friend, Angela, won't even say the word "sex" until she gets married. But Mercedes doesn't bank on Angela's boyfriend finding out about her services and wanting a turn- or on Zach, who likes her for who she is instead of what she can do in bed.

When Mercedes' perfect system falls apart, she has to find a way to salvage her reputation and figure out where her heart really belongs in the process. Funny, smart, and true-to-life, FIRSTS is a one-of-a-kind young adult novel about growing up.
Why I'm Waiting...
Firsts by Laurie Elizabeth Flynn looks like the kind of book that is going to be challenged, and I love books like that. It's just one of those books that had me hooked after I read the synopsis because there aren't many out there like it. I'm excited to read a book that is different in an edgy way. I want to find out more about Mercedes and why she opens her bedroom to virgins, but I also want to see if she's able to overcome her sexual habits and form a real relationship.
What Are You Waiting On...
Now it's up to you to tell me what book or books you're waiting on this week? Is Firsts by Laurie Elizabeth Flynn on your list of must read books? Are there other books that are grabbing your attention? As always, feel free to let me know in the comments. And bloggers, feel free to leave links to your own Waiting on Wednesday posts so I can check them out!