Title: Happily Ever After (Companion to The Selection Series)
Series: The Selection
Author: Kiera Cass
Publisher: HarperTeen
Publication Date: October 13, 2015
Source: Purchased
Meet Prince Maxon before he fell in love with America, and a girl named Amberly before she became queen. See the Selection through the eyes of a guard who watched his first love drift away and a girl who fell for a boy who wasn't the prince. This gorgeous collection features four novellas from the captivating world of Kiera Cass's #1 New York Times bestselling Selection series, as well as exclusive, never-before-seen bonus content.

This series companion is a must-have for any Selection fan, and includes:

The Prince
The Guard
The Queen
The Favorite
Exclusive new scenes from The Selection, The Elite, and The One
Introductions to each novella from Kiera Cass
A map of Illéa and other illustrations
And more!
My Review
Okay... the last time that I reviewed Kiera's stories, I did little mini-reviews, and I'll be doing that this time, too. I really feel like it helps each novella stand out on its own.
Before I get to my mini reviews, I just wanted to say that if you're a fan of The Selection series, and you're considering adding a copy of this to your library, just pull off the Band-Aid and do it!
The inside covers include a gorgeous pink and purple outlined map of
Illéa that I just can't stop staring at. It's just so pretty, and I love the font that they used on it! (I also now know that if I were living in
Illéa, I would be living in Allens.)
The book also includes illustrations. Each novella has a few of these illustrations, and they are so freaking pretty. I love that they are in black and white, so much of the dresses and suits can be left to the imagination. But... there is so much detail in these illustrations. They are beautiful!
I did notice there were quite a few typos in this book, and that did shock me, considering that this book was pushed back to include even more extras. Surely there would have been time for someone to look at it and make sure that the typos were eliminated, right?
Other than that, I enjoyed the book and all the new stories that were included.
The Queen
The Selection #0.4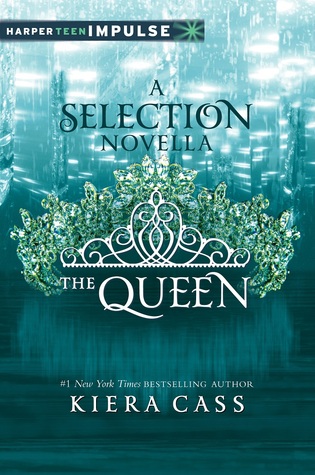 The Queen
is the novella that everyone was excited for when it was first released. I almost bought it on my Kindle, but I decided to wait because I love reading everything in print. I'm really glad that I waited because I really enjoyed reading about Amberly's Selection. I also loved the artwork that was included in this physical bind up.
The Queen gives readers an all access pass into Amberly's life in the palace before she became a much beloved queen. Though the novella is fairly short, you're there with her through her ups and downs in the palace. You're there with her while she's sick, while she's healthy, and when she learns troubling news that could change her life forever. You're their with her in the Women's Room with a very rude Queen Abby.
What I didn't like about Amberly is that she's just ready for everything that will come with possibly being the Queen of
Illéa. It's almost as if she's already decided that this is her only escape, and that she'll do whatever Clarkson asks of her. There's definitely an emotionally abusive relationship developing, and I don't even know if Amberly realized it at the time. It's just sad to watch this strong girl fall for an ill-fated man.
Readers are also their to meet a young Clarkson. At first, he seems normal, and nothing like the tyrant king that readers first met in The Selection. But as the novella progresses, his dark side comes out, and it's just a sad thing to witness. I almost felt bad for him because there are things in his life that he just can't change, but his disposition is basically set by this time in his life. He does some cruel things that really let readers know that he was destined to be a cruel leader.
All in all, I enjoyed this story. It was much sadder than I expected, but it was very well done. I give Ms. Cass props for painting a less than perfect picture and letting readers see just what happened so many years ago.
The Prince
The Selection #0.5
Note: I previously reviewed this novella on my blog. An updated version of that review is below.
I really enjoyed reading through The Prince, which takes place during the events of Cass' novel, The Selection. This novella is narrated by Prince Maxon, and it's a different, yet refreshing, take on the events that happened during The Selection. He's a fairly complicated young man, and it shows in this novella.
I really enjoyed getting to see Maxon's thoughts leading up until the Selection. He even takes readers along for the ride for a few more days into the competition. It gives fans of the series a different look into life in the palace, especially from the point of view of one of the royals. I really enjoyed Maxon's voice in this novella, and I kind of wish that it was just a bit longer.
Kiera also reveals some little details about King Clarkson and Queen Amberly that one would not know by only having read The Selection. If you're curious about them as a royal couple, I would definitely urge you to read this novella.
Oh... and if you haven't read this novella, it's worth reading just to see the garden date scene from Maxon's point of view! Readers get to see just what he thought of America after meeting her and how he copes with everything as the Selection continues.
The Guard
The Selection #2.5
Note: I previously reviewed this novella. An updated version of it follows.
The third piece to the love triangle in The Selection series is Aspen Leger. He loved America Singer before she ever met Prince Maxon, but for me, I never really liked him as a character. I see his importance to the plot, but I just never could get past some of his flaws. Because of that skewed view I had, I tried to go into this novella with an open and accepting heart, but I think that I just couldn't be swayed to like him.
Aspen's novella, The Guard, didn't really appeal to me. I just didn't like it or the story that he had to tell. Do I feel bad for him? Yes. I think it would be very hard to see the only person you've ever loved fall in love with someone else, especially considering that he bears a lot of that weight because he encouraged America to go to the palace to try to win Maxon's heart.
I wouldn't call Aspen completely selfish in this story, but I did get the vibe that he was a bit selfish, especially in the beginning of the novella. Aspen did mature a little bit througout the novella; he's definitely not the boy in the tree house anymore. That maturation was nice to see, but there were parts that revealed his immaturity and rash decisions.
His voice does stand out in this short story, and I liked that it felt personal. You see him as he watches Marlee and Carter caned in front of everyone, and you can feel the worry he has because he is involved in a very similar situation.
I wouldn't say Aspen's story was terrible, but I think that I'd be fine without ever having read it. Either way, I'm glad that I did read it, and I'm glad that it does provide some additional pieces to the puzzle of The Selection.
The Favorite
The Selection #2.6
Everyone who has read the novels in The Selection series know that Marlee Tames was certainly everyone's favorite to win the crown and the heart of Prince Maxon. Readers also know that Marlee fell for another while she was living in the palace. Committing an act known as treason, Marlee and Carter have to find their own way in the world once they are stripped of their castes and forced to become laborers.
I really, really enjoyed this novella. It's told in two parts, instead of chapters, and for some reason, I just think that everything flowed so much better.
Marlee narrates her tale in the present, which occurs right after she and Carter are caught for being in a relationship. She has been labeled as being an unfaithful contestant and is immediately eliminated. Carter is stripped of his career as a royal guard. They are both in separate jail cells the night before the caning, and all she can think about is her love for Carter and everything that he means to her.
Throughout this novella, Marlee flashes back, and readers are able to see just how Carter Woodwork stole her heart. Readers will see how they met, how they flirted, and everything they dealt with to try to stop their relationship from happening. It's absolutely cute, and it's just such an adorable story to read about.
I would definitely recommend this novella to any fan of The Selection series, especially those readers who just love a cute, little love story.
Scenes from Celeste
Happily Ever After also gives readers the chance to see some events from Celeste's point of view. If you don't remember, Celeste was the model, the Two, and she was so sure, so confident that she would win Maxon's heart. She's your stereotypical mean girl, but in these three scenes, Cass paints a very different picture of the Celeste that we all knew (and most likely hated).
Celeste isn't as hardened as I originally believed her to be. Yeah... she's still a huge bitch, but she's also vulnerable and human. It was sad to see her at her angriest, and it was even sadder to see her at her saddest when she realized that she wouldn't win the crown and Maxon's heart.
I'm really glad that I Cass included these scenes, especially with how things ended for Celeste. It was just refreshing to see that sometimes the bad guy isn't so bad at all. It was also nice for Celeste to learn one very important lesson from Prince Maxon, and it really made me upset considering how things ended for Celeste.
The Maid
Every Selection fan knows that by the end of the third novel in America's story arc, Aspen Leger has found a new leading lady in his life. It was nice to see him find happiness, but that happiness almost wasn't guaranteed because of his past relationship with America Singer.
Readers got to know Lucy as one of America's maids. I'll be honest that I never thought much of her in the first two books, and I was a little taken aback when I found out that Cass was taking her character to a new level by her falling for Aspen. By the conclusion of The One, I felt like I hardly knew anything about her, except for the fact that she'd been hurt in love before. I was so glad to see that she gets a novella in Happily Ever After because I was just really curious about her!
Her novella picks up on America's flight back to the palace after her father's funeral. Right away, readers pick up on the fact that Lucy has found out about America and Aspen, and she's kind of pissed. They get in a fight on the airplane, and Lucy wants to know if America is still an option for Aspen if Maxon chooses someone else. To her disappointment, she finds out that America would be willing to go back to Aspen if Maxon chose another woman as his wife.
It was heartbreaking to read about Lucy, and I loved her disposition. She's angered when she finds out about America and Aspen, and she feels like she's been lied to. (Well... she kind of has been, even if it was only a lie by omission.) The jealousy and heartbreak that she feels feels so real, and I wanted to jump into the book and give her a huge hug. Things are just so awkward before her because she's America's maid, and now the two of them have to tough it out for the rest of the competition with what they know about the other.
After The One
This bonus chapter, also known as The Epilogue to The One is finally available in print, and fans of America and Maxon's love story are going to need to read this short story if they already haven't! I read this story online when The Heir was announced, and let me tell you... it was even better to read the second time.
This was the first chance that readers got to see America and Maxon as a married couple. (It's also the only chance they get to see them as married couple with America narrating as The Heir is narrated by Princess Eadlyn.) This bonus chapter takes place two years after the concluding events in The One, and it's clear to see that America and Maxon are still very happy together.
I really enjoyed seeing America enjoy married life with Maxon. She's not as annoying as she was in the novels, and Maxon is a little more lighthearted too. This bonus material takes place on Maxon's birthday, and America has a little surprise for him! Anyone would be able to pick up on the surprise because of all the details that Cass gives, but Maxon's reaction to the surprise makes reading this so worth it.
Kiera Cass is a graduate of Radford University and currently lives in Christiansburg, Virginia with her family. She is the #1

New York Times

bestselling author of The Selection series as well as

The Siren

. You can learn more about Kiera's books, videos, and love of cake online.