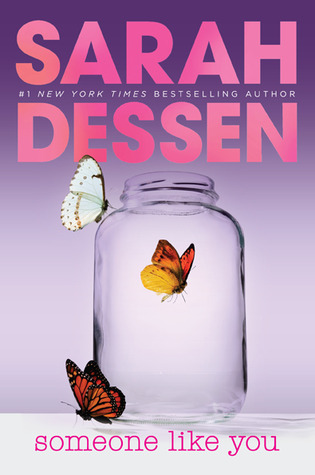 Title: Someone Like You
Author: Sarah Dessen
Publisher: Speak (paperback reissue)

Publication Date: June 2012 (originally published in 1998)
Source: Penguin Teen
Halley has always followed in the wake of her best friend, Scarlett. But when Scarlett learns that her boyfriend has been killed in a motorcycle accident, and that she's carrying his baby, she's devastated. For the first time ever, Scarlett really needs Halley. Their friendship may bend under the weight, but it'll never break--because a true friendship is a promise you keep forever.
The Summer of Sarah Dessen is a summer-long reading event and blog tour that is being hosted by Penguin Teen. All summer long, book bloggers and readers are celebrating the one and only Sarah Dessen (AKA The Queen of YA).




I'm completely honored that Penguin asked me to take part in the blog tour, as I was planning on making this my own Summer of Sarah Dessen before I even knew about the event. Most of you may know that prior to this summer, I'd never read a Sarah Dessen book. Luckily, they asked me to read and review the next Sarah Dessen book on my list, Someone Like You.
My Review
Let me start off by saying that
Someone Like You
by Sarah Dessen isn't your typical YA book. Why? Well... Ms. Dessen brings in a lot of more mature subject matter, but the subject matter are issues that teens deal with in life. It doesn't matter that this book was written in the late 90s because teenage girls are still dealing with things like sex, teenage pregnancy, underage drinking, and drug use. So what am I saying? I'm saying that this book is still relevant, and if anything, it's aged as nicely as a really good bottle of wine.
What do you get out of
Someone Like You
? Well, you get two very different coming-of-age stories in one novel. One story belongs to Halley, a teenage girl who is trying to become her own person. The other story belongs to Scarlett, Halley's bolder best friend who finds herself pregnant and alone because her boyfriend died in a motorcycle accident. Does it sound complicated? You'd be right if you guessed that!
The book revolves around Halley and Scarlett, two high school juniors who have been best friends since the day Scarlett and her mom moved to Lakeview. There are also a few other characters who are important to the story and how Halley and Scarlett grow.
Halley... what can I say about Halley? Sometimes I liked her. Other times, I cringed because she's just a moody teenage girl who is trying to rebel. Teens do that. I see it every day in schools, but sometimes, I felt it was a bit too much. Halley is complicated, and she doesn't see herself for who she really is until something bad happens. After that, she kind of comes into her own, and I really liked how she was able to really find her strength and be there for the best friend who was always so strong for her.
Then there's Scarlett. You can't read this book and not feel something for Scarlett. You might feel bad for her. You might pity her. You might even want to sit there and cry with her. She's forced to grow up in a way that not many teens do by dealing with a pregnancy, but then you have to factor in that her first love was killed in a motorcycle accident. It's so sad, but I loved how she was able to stay positive throughout her pregnancy and even make some new friends.
And what contemporary YA book wouldn't have some sort of a love interest, right? Meet Macon, love interest to Halley. At first, I liked Macon, despite his mysterious lifestyle, but by the end of the book, I had enough of him. He was vital to Halley's coming of age story, and I think he was a wonderful character to include, but I just didn't like him.
The writing of
Someone Like You
is okay. There aren't many metaphors in the book, but there is one that I really enjoyed (Halley's comet), and I think other readers will like the reoccurring metaphor. The book does read a bit slow, and you really get the sense that these two girls are going through a year of school. It starts in the summer before their junior year, and ends on the night of prom. Many seasonal events are brought up, and it's just very realistic feeling.
Now... keep in mind that this is only my second Sarah Dessen book. (I read and reviewed her debut as a guest post, but you'll be able to see it on The Hardcover Lover later this summer.) I really did enjoy it, and if I'm being honest, I'd have to say I enjoyed the characters and the plot more than the writing. It's a very good book, and I'd recommend it to fans of TV shows like
The Secret Life of the American Teenager
,
Sixteen & Pregnant
, and
Teen Mom
. I'd also recommend it to fans of Katie Cotugno's debut novel
How to Love.
If you haven't picked this one up, please do so. You won't regret it.
Sarah Dessen is the author of twelve novels, which include the New York Times bestsellers The Moon and More, What Happened to Goodbye, Along for the Ride, Lock and Key, Just Listen, The Truth About Forever, and This Lullaby. Her first two books, That Summer and Someone Like You were made into the movie How to Deal starring Mandy Moore.

Dessen's books are frequently chosen for the Teen Top Ten list of Fiction for Young Adults. They have been translated into twenty-five languages.

Sarah Dessen graduated from the University of North Carolina at Chapel Hill with highest honors in creative writing.

She lives in Chapel Hill with her husband, Jay, and their daughter, Sasha Clementine.