Waiting on Wednesday is a weekly bookish meme created and hosted by Jill at her blog,
Breaking the Spine
. The meme helps bloggers and readers spotlight some of the many upcoming releases that we are all patiently (but most likely impatiently) waiting on.
It's pretty simple to participate in Waiting on Wednesday:
Create your own Waiting on Wednesday post that features an upcoming title (or titles)
Be sure to credit Jill in your post
Link up to the Linky on Jill's blog
What I'm Waiting On...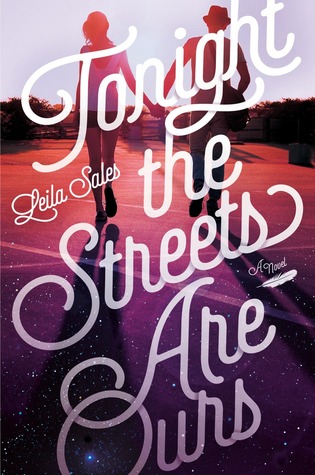 Title: Tonight the Streets Are Ours
Author: Leila Sales
Publisher: Farrar, Straus and Giroux (BYR)
Publication Date: September 15, 2015
From the author of This Song Will Save Your Life comes a funny and relatable book about the hazards of falling for a person you haven't met yet.

Seventeen-year-old Arden Huntley is recklessly loyal. Taking care of her loved ones is what gives Arden purpose in her life and makes her feel like she matters. But she's tired of being loyal to people who don't appreciate her—including her needy best friend and her absent mom.

Arden finds comfort in a blog she stumbles upon called "Tonight the Streets Are Ours," the musings of a young New York City writer named Peter. When Peter is dumped by the girlfriend he blogs about, Arden decides to take a road trip to see him.

During one crazy night out in NYC filled with parties, dancing, and music—the type of night when anything can happen, and nearly everything does—Arden discovers that Peter isn't exactly who she thought he was. And maybe she isn't exactly who she thought she was, either.
Why I'm Waiting...
When I first saw the cover and title of Leila Sales' newest book, I was intrigued. Obviously the cover is gorgeous, but the title just stands out for its meaning. Anything can happen when you make the world your own for a night, and that's what I'm hoping to get out of Tonight the Streets Are Ours.
I think it's really interesting to see that bloggers are highlighted in this novel because I see so many teenagers who blog, and I really think it'll be a standout book for them.
What Are You Waiting On...
Alright... you know what time it is. Are you also waiting on Tonight the Streets Are Ours or do some other books have your undivided attention. As always, feel free to leave a comment to let me know what you're waiting on. And bloggers are free to leave links to their own Waiting on Wednesday posts.