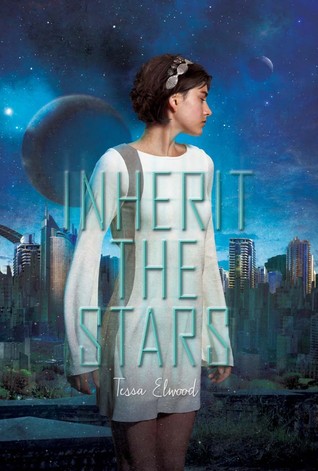 Title: Inherit the Stars
Original Title: Hunger, Heart, Fuel, Nation
Series: Inherit the Stars
Author: Tessa Elwood
Publisher: Running Press Kids
Publication Date: December 8, 2015
Source: Publisher for Review
Three royal houses ruling three interplanetary systems are on the brink of collapse, and they must either ally together or tear each other apart in order for their people to survive.

Asa is the youngest daughter of the house of Fane, which has been fighting a devastating food and energy crisis for far too long. She thinks she can save her family's livelihood by posing as her oldest sister in an arranged marriage with Eagle, the heir to the throne of the house of Westlet. The appearance of her mother, a traitor who defected to the house of Galton, adds fuel to the fire, while Asa also tries to save her sister Wren's life . . . possibly from the hands of their own father.

But as Asa and Eagle forge a genuine bond, will secrets from the past and the urgent needs of their people in the present keep them divided?
My Review
Inherit the Stars
, the first book in the Inherit the Stars series by debut novelist Tessa Elwood, is one of those novels that just grabs a reader's attention from the moment you first see it. The synopsis tells readers of a futuristic space society in crisis. The title of the novel is certainly catchy, and the artwork on the cover is beautifully stunning. The cover art lets the readers know that it's a futuristic space opera, and that is the case here. It's definitely a futuristic sci-fi tale.
Unfortunately, the text inside the book is lackluster, nonsensical at times, and lacks a lot of details and substance for me to even consider it a mediocre debut. Because of all of this, I sadly had to add this one to my DNF shelf. It really hurt me to do this because I was really looking forward to
Inherit the Stars
.
For me, a space opera has to be thrilling, but it also has to be informative. There are so many things that need to happen in a space opera for them to be successful, and
Inherit the Stars
did not contain them. What it has in action, it lacks in world building. I feel like I knew very little about the world - the names of the planets and the royal houses.
World building is just an essential part of science fiction and space operas. It's just something you can't leave out when writing any science fiction novel, and Ms. Elwood clearly missed the mark on this one by not explaining Asa's world and home better. I've never been more frustrated with a science fiction novel as I have with this one. Why? Because I literally had no idea what anything was! I never got any clear ideas about what Asa's world is like or what the planets look like. By the time I decided to DNF the book, I was lucky to know the names of the three royal houses that govern this system because they are only mentioned, never really explained in a way to make them stay in your mind.
The characters in
Inherit the Stars
are as dull and underdeveloped as the plot.
There's Asa, the narrator of the story, and she's also the youngest Daughter of Fane. That means that she's never going to be the heir and rule her planetary system unless her two older sisters die. I guess she's supposed to be the heroine of the book, but she's extremely irritating and I don't really see her as a heroine-type character. I understand that she's a teenager, but the girl seriously does not listen to anyone, and because of that, she often finds herself in precarious situations that could have easily been avoided. (Seriously... she drugs her sister because she thinks that posing as her and marrying someone will save everything.) Her actions just become too repetitive over time, and it gets annoying.
Asa also has two sisters. Her oldest sister, Wren, is in a coma for much of what I read. Now I already admitted that I didn't finish the book, but she was barely alive in the very shaky first chapter. Because Wren is firstborn, she is the rightful heir to the House of Fane. This poses a problem for Lord Fane, especially because his country is in peril, and he needs to forge a marriage alliance with his heir to The House of Westlet's heir keep the country fed. Then pops in Emmie, the second Daughter of Fane. With Wren's life in jeopardy, their father decides that he should pull the plug on Wren's life support and make Emmie the heir. I still don't know much about Emmie, but I do know that she's not the nicest person on the planet. She shows no compassion toward Asa, and she seems to be very concerned with her own life, instead of the family. I would not want her as a sister. Nope.
There's also a romantic lead in the story, and his name is Eagle. Eagle is the heir to the House of Westlet, and he's been promised that he'll marry the heir to the House of Fane. Soon after, he finds out that Asa drugged his bride in order to marry him, and it sets his family off. Ms. Elwood actually does describe Eagle physically, but she doesn't get too much into his personality. He's quiet and stoic, but he also has his secrets. I'll admit that I felt bad for Eagle because of his physical deformities, but again, I just felt like so much more should have been known about him.
I was extremely disappointed in
Inherit the Stars
, and I will not be revisiting this novel in the future for a possible re-read and finish. I just can't sit here and tell you that it's worth reading when it just feels so unfinished. The writing is choppy, the plot seems like it was overlooked, and the lack of world building just make it an inferior novel to the many great science fiction novels out there. I would not recommend this book to anyone because I would not want them to deal with the frustration that is
Inherit the Stars
.