Waiting on Wednesday is a weekly bookish meme created and hosted by Jill from Breaking the Spine. Each week, bloggers shine the spotlight on upcoming book titles that they are waiting on. This is one of my favorite memes, and you've probably noticed it as a frequent feature on my blog.
It's pretty simple to participate in Waiting on Wednesday. All you need to do is:
Create your own Waiting on Wednesday post that features an upcoming title (or titles)
Be sure to credit and link back to Jill somewhere in your post
Add your link to the Linky on Jill's blog so that others can see your post and find out what you want to read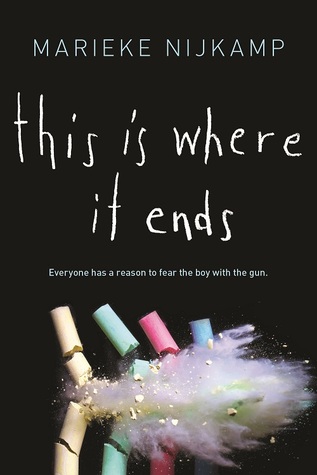 Title: This is Where it Ends
Publisher: Sourcefire Books
Publication Date: January 5, 2016
10:00 a.m.




The principal of Opportunity, Alabama's high school finishes her speech, welcoming the entire student body to a new semester and encouraging them to excel and achieve.





10:02 a.m.




The students get up to leave the auditorium for their next class.





10:03




The auditorium doors won't open.





10:05




Someone starts shooting.





Told over the span of 54 harrowing minutes from four different perspectives, terror reigns as one student's calculated revenge turns into the ultimate game of survival.
Why I'm Waiting...
I don't know if anyone knows this, but one of my WIPs is actually about a school shooting. You see... when I was sitting in my final teacher preparation/graduation meeting is when the Sandy Hook shooting happened. I managed to get on WiFi and see it during the presentation, and it hit me... hard. As a teacher, I can't even imagine the horror of a school shooting. I know I'd be a nervous wreck, but I'd do everything in my power to save the lives of my students.
I'm really curious to see how Ms. Nikkamp worked this horrific scenario. I've heard that it's really emotional and powerful, so I'm thinking it will be a great way to start off the new year. I hope it's a book that will make me think and feel.
What Are You Waiting On...
So seeing as this is the last Waiting on Wednesday post of 2015, I want to know what 2016 releases you're waiting on! I will randomly select one commenter at the end of the week, and he/she will win a swag pack! I do apologize, but the swag pack will be limited to U.S. ONLY.