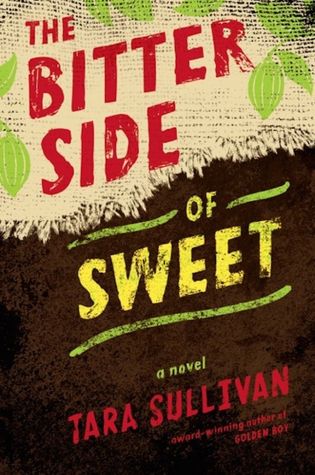 Title: The Bitter Side of Sweet
Author: Tara Sullivan
Publisher: G.P. Putnam's Sons Books for Young Readers
Publication Date: February 23, 2016
For fans of Linda Sue Park and A Long Way Gone, two young boys must escape a life of slavery in modern-day Ivory Coast.

Fifteen-year-old Amadou counts the things that matter. For two years what has mattered are the number of cacao pods he and his younger brother, Seydou, can chop down in a day. This number is very important. The higher the number the safer they are because the bosses won't beat them. The higher the number the closer they are to paying off their debt and returning home to Baba and Auntie. Maybe. The problem is Amadou doesn't know how much he and Seydou owe, and the bosses won't tell him. The boys only wanted to make some money during the dry season to help their impoverished family. Instead they were tricked into forced labor on a plantation in the Ivory Coast; they spend day after day living on little food and harvesting beans in the hot sun—dangerous, backbreaking work. With no hope of escape, all they can do is try their best to stay alive—until Khadija comes into their lives.

She's the first girl who's ever come to camp, and she's a wild thing. She fights bravely every day, attempting escape again and again, reminding Amadou what it means to be free. But finally, the bosses break her, and what happens next to the brother he has always tried to protect almost breaks Amadou. The old impulse to run is suddenly awakened. The three band together as family and try just once more to escape.

Tara Sullivan, the award-winning author of the astounding Golden Boy, delivers another powerful, riveting, and moving tale of children fighting to make a difference and be counted. Inspired by true-to-life events happening right now, The Bitter Side of Sweet is an exquisitely written tour de force not to be missed.
My Review
The Bitter Side of Sweet by Tara Sullivan is a powerful, intense, emotional, and captivating book that takes readers behind the scenes and into the world of chocolate making. No - I'm not talking about an episode of Unwrapped! This enthralling YA novel is about the darker side of chocolate. It's gruesome, eye-opening, education, and thought-provoking. It's a life-changing book, especially when readers think about the fact that it's based on actual events! It's just one of those YA novels that will really get readers thinking about where they buy their chocolate and making changes in their own lives.
The novel follows two Malian brothers - Amadou and Seydou - as they live their day-to-day lives on a cacao plantation. Their only goal? Work all day without pay so they can earn what the plantation owners paid for them. Then they will finally be able to go home to Mali. They work for hours at a time, climbing cacao trees and swinging machetes all so they can make quota. If they don't make their quota, they are punished with beatings from the plantation owners. Everything for Amadou and Seydou is as normal as it can be given their circumstances until a girl, Kajida, shows up on the farm and turns everything into a chaotic mess.
The Bitter Side of Sweet is full of diversity, and I really enjoyed the different kinds of diversity that Ms. Sullivan includes in this novel. The book takes place in Ivory Coast and features characters from Ivory Coast, Mali, and other African countries. It's also diverse because of the plot. The book is about young boys working as slaves on a cacao plantation. I've never read any YA book about farming, but Ms. Sullivan clearly did her research on this one. Readers will find out about the cacao trees, pods, seeds, and beans, and it's explained in a way that teenagers will understand because it's told to them by Amadou.
What I really enjoyed about The Bitter Side of Sweet was the characters. Even though I couldn't relate to their experiences, I felt like I was able to connect to them on an emotional level. Amadou and his brother Seydou have spent two years working on the farm. They are tired, lonely, and homesick. Ms. Sullivan did an amazing job at letting Amadou's emotional take center stage. He's a cautious character, but you can tell that he's driven by his emotions. He's dedicated to taking care of his younger brother, and later on, Kajida. I also really liked the bond that formed between these three main characters. I didn't know how things would turn out for the three of them, but they are a trio of characters that will inspire readers to do better and do things for themselves. Their story is an emotional one, but I really think that's why these three will become a powerful force in Young Adult literature.
The book is also about a different culture than most YA readers are accustomed to, but I don't see that as an issue. In fact, I think that because it's about cacao farming and slavery, more people will be inclined to read it and possibly educate themselves on the chocolate industry. Obviously it's emotional, especially when you think about the fact that it's about modern slavery, but the battle against the plantation owners and workers is something that will really make readers think about the world in which we live. I don't want to spoil anything, but the ending of the book is worth it. It's satisfying, tearjerking, and bittersweet, and readers will be curious about Amadou, Seydou, Kajida, and the other characters long after they close the pages.
I didn't know what to expect when I first started reading Tara Sullivan's The Bitter Side of Sweet, but I'm more than certain that I got so much out of this book. The characters grabbed at my heartstrings, but the driving force of it was their emotional battle against an industry that prospers today. While readers won't come out of the book as experts on cacao farming, I can certainly bet that they will start to wonder where their chocolate comes from and begin to research more about it. The book is a powerful read that will appeal to readers of middle grade to adult fiction, and it's a book that just might change the world. Everyone should do themselves a favor and read The Bitter Side of Sweet, even if it's just to see just what goes into that chocolate bar you enjoy from time to time.
Tara Sullivan was born in India and spent her childhood growing up in Bangladesh, Ecuador, Bolivia, and the Dominican Republic with her parents, who were international aid workers. She received a BA in Spanish literature and cognitive science from the University of Virginia, and an MA in Latin American studies and an MPA in nonprofit management from Indiana University. Her first book, Golden Boy, was selected as a top-ten book of 2013 by YALSA, and a best book of the year by Kirkus Reviews and the Wall Street Journal. It is the winner of the 2014 Notable Social Studies Trade Books for Young People Award. She currently lives with her family in Massachusetts.